Tess Gerritsen joined Meg Gardiner at The Poisoned Pen recently. It was release date for Gardiner's third UNSUB novel, The Dark Corners of the Night. Gerritsen discussed The Shape of Night. Barbara Peters, owner of the bookstore welcomed them, and showed the audience the flowers "from a secret admirer, an obscure up-and-coming writer…."
You can order the signed books by both authors through the Web Store. https://store.poisonedpen.com/
Gardiner's latest book is The Dark Corners of the Night.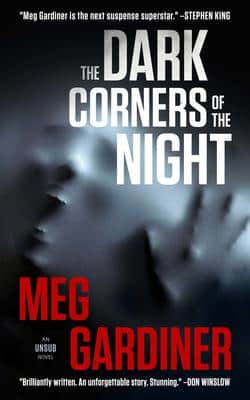 "Don't miss it. This is a great one!" — Stephen King
Soon to be an Amazon TV series
I am the legion of the night …
He appears in the darkness like a ghost, made of shadows and fear—the Midnight Man. He comes for the parents but leaves the children alive, tiny witnesses to unspeakable horror. The bedroom communities of Los Angeles are gripped with dread, and the attacks are escalating.
Still reeling from her best friend's close call in a bombing six months ago, FBI behavioral analyst Caitlin Hendrix has come to Los Angeles to assist in the Midnight Man investigation and do what she does best—hunt a serial killer. Her work is what keeps her going, but something about this UNSUB—unknown subject—doesn't sit right. She soon realizes that this case will test not only her skills but also her dedication, for within the heart of a killer lives a secret that mirrors Caitlin's own past. Hesitancy is not an option, but will she be able to do what must be done if the time comes?
Tense and impactful, Edgar Award winner Meg Gardiner's latest UNSUB thriller will leave you on the edge of your seat until its riveting conclusion.
*****
Tess Gerritsen's latest, The Shape of Night, captures the gothic tone that has made a comeback.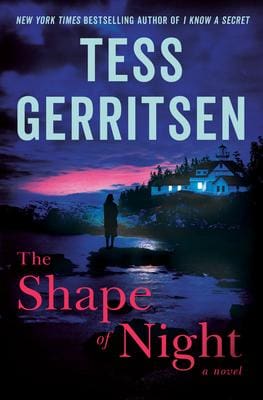 A woman trying to outrun her past is drawn to a coastal village in Maine—and to a string of unsolved murders—in this novel of romance and psychological suspense from New York Times bestselling author Tess Gerritsen.
"Suspenseful, sexy, and soulful."—J. R. Ward, bestselling author of the Black Dagger Brotherhood series
After an unspeakable tragedy in Boston, Ava Collette flees to a remote village in Maine, where she rents an old house named Brodie's Watch.
In that isolated seaside mansion, Ava finally feels at peace . . . until she glimpses the long-dead sea captain who still resides there.
Rumor has it that Captain Jeremiah Brodie has haunted the house for more than a century. One night, Ava confronts the apparition, who feels all too real, and who welcomes her into his world—and into his arms. Even as Ava questions her own sanity, she eagerly looks forward to the captain's ghostly visits. But she soon learns that the house she loves comes with a terrible secret, a secret that those in the village don't want to reveal: Every woman who has ever lived in Brodie's Watch has also died there. Is the ghost of Captain Brodie responsible, or is a flesh-and-blood killer at work? A killer who is even now circling closer to Ava?
Praise for The Shape of Night
"Gerritsen is at her atmospheric best in this spine-tingling tale of a lone woman, an old house, and all the secrets everyone tries to hide."—Lisa Gardner, #1 New York Times bestselling author

"With a twisty mix of dangerous passion, obsession, and suspense, Tess Gerritsen reinvents the Gothic novel, giving it a razor-sharp, modern edge."—Jayne Ann Krentz, New York Times bestselling author of Untouchable

"Curl up in your favorite reading chair and let Tess Gerritsen whisk you away to a coastal town reminiscent of Daphne du Maurier's best settings. You are in for a dark and sexy night, and you will be up very late with Tess's twisted, haunting tale."—Iris Johansen, #1 New York Times bestselling author
*****
This is a conversation you're going to want to watch.