It's hard to say what the topic of conversation will be when author Jenn McKinlay is at The Poisoned Pen. Dog shows? Royalty and hats? Paris? You might have missed her latest appearance at The Poisoned Pen, but her appearances are too much fun to miss. Before you dive in to the last conversation, check out the Web Store for signed copies of her latest Hat Shop Mystery, Buried to the Brim, or some of her other books. https://bit.ly/2v0jw8V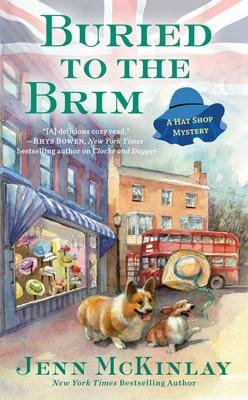 Here's the description of Buried to the Brim.
New York Times bestselling author Jenn McKinlay's beloved Hat Shop duo Scarlett Parker and Vivian Tremont return to don their sleuthing caps and solve a murder that's death in show.
London's most refined canines and their humans are gearing up for the Pets and Wellness Society's annual dog show–and Betty Wentworth, favorite aunt to Scarlett's fiancé Harrison and proud owner of corgi front-runner Freddy, knows that this could be their year with the right edge. Never one to turn away a corgi in need, Scarlett convinces her milliner cousin, Vivian, to design matching hats for dream team Betty and Freddy as they compete for Best in Show.
It's a tail wagging good time until the dog-food sponsor of the event is found dead and Betty is the prime suspect. Vivian and Scarlett agree to enter the competition in Betty's place and help Harrison catch the real killer before Betty is collared for a crime she didn't commit.
*****
And, here's your chance to catch up with Jenn McKinlay in conversation with Barbara Peters, owner of The Poisoned Pen.