On Saturday, February 8 at 2 PM, The Poisoned Pen will host a suspenseful triple threat. Authors Christina Dodd (Strangers She Knows), Paige Shelton (Thin Ice), and Allison Brennan (The Third to Die) will appear together. Autographed copies of all the books can be ordered through the Web Store. https://store.poisonedpen.com/
Today's focus is on Allison Brennan's The Third to Die, though. It's the current Hot Book of the Week at The Poisoned Pen, so it's highlighted. The author known for her Lucy Kincaid books launches a new thriller series. Check it out.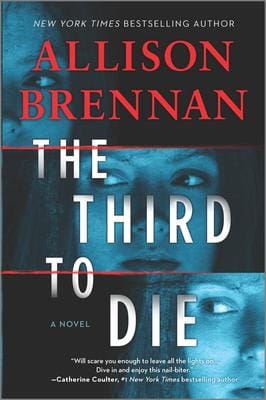 "The first in Brennan's amazing new thriller series. Dive in and enjoy this nail-biter."—Catherine Coulter, NYT bestselling author of LABYRINTH

An edgy female police detective…An ambitious FBI special agent. Together they are at the heart of the ticking-clock investigation for a psychopathic serial killer. The bond they forge in this crucible sets the stage for high-stakes suspense.
Detective Kara Quinn, on leave from the LAPD, is on an early morning jog in her hometown of Liberty Lake when she comes upon the body of a young nurse. The manner of death shows a pattern of highly controlled rage. Meanwhile in DC, FBI special agent Mathias Costa is staffing his newly minted Mobile Response Team. Word reaches Matt that the Liberty Lake murder fits the profile of the compulsive Triple Killer. It will be the first case for the MRT. This time they have a chance to stop this zealous if elusive killer before he strikes again. But only if they can figure out who he is and where he is hiding before he disappears for another three years. The stakes are higher than ever before, because if they fail, one of their own will be next…