Rhys Bowen. Jenn McKinlay. Kate Carlisle. Paige Shelton. Those are just a few of the names of cozy mystery authors who have appeared at The Poisoned Pen in the last year. Rhys Bowen just appeared at the bookstore, and Jenn McKinlay will be at the Pen on February 13 at 7 PM. Why bring this up? Every once in a while, someone sees the need to defend cozy mysteries as being worthwhile to read. Radha Vatsal, author of Murder Between the Lines, has been at the bookstore. She recently wrote an article, "In Defense of Cozy Mysteries" that appeared in the January 15 issue of Kirkus Magazine. You can read it here. https://www.kirkusreviews.com/features/defense-cozy-mysteries/
Better yet, if you're a fan of cozy mysteries, buy a book by an author described as a "cozy author". You can check the Web Store for some of the authors and books mentioned in Vatsal's article. https://store.poisonedpen.com/
Or, just show up on Thursday, Feb. 13 at 7 PM to hear Jenn McKinlay talk about her latest book, Buried to the Brim. Once you've hear Jenn, you might want to pick up one or two of her books. https://bit.ly/2v0jw8V
Here's the information about Buried to the Brim.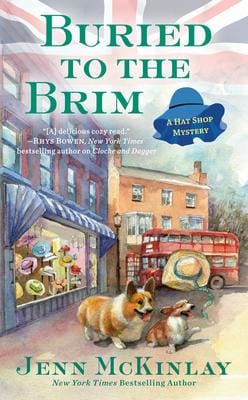 New York Times bestselling author Jenn McKinlay's beloved Hat Shop duo Scarlett Parker and Vivian Tremont return to don their sleuthing caps and solve a murder that's death in show.
London's most refined canines and their humans are gearing up for the Pets and Wellness Society's annual dog show–and Betty Wentworth, favorite aunt to Scarlett's fiancé Harrison and proud owner of corgi front-runner Freddy, knows that this could be their year with the right edge. Never one to turn away a corgi in need, Scarlett convinces her milliner cousin, Vivian, to design matching hats for dream team Betty and Freddy as they compete for Best in Show.
It's a tail wagging good time until the dog-food sponsor of the event is found dead and Betty is the prime suspect. Vivian and Scarlett agree to enter the competition in Betty's place and help Harrison catch the real killer before Betty is collared for a crime she didn't commit.