Roz Shea just wrote an excellent review in Bookreporter.com of Sulari Gentill's latest Rowland Sinclair Mystery, Give the Devil His Due. It can be read at https://bit.ly/379rj2d. Shea provides complete background as to her interest in Australia, the setting for Gentill's books, the story background, and the review itself. With the current worldwide interest in Australia, you might want to check out the review. Then, look for Gentill's books, published in the United States by Sourcebooks/Poisoned Pen Press. You can find them, including Give the Devil His Due, in the Web Store. https://bit.ly/2DdMLE1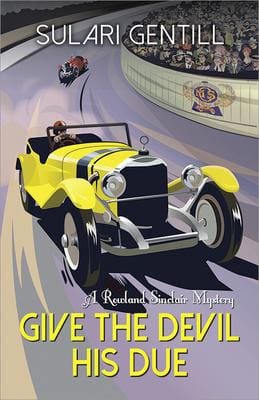 Here's the summary of Give the Devil His Due.
For fans of Rhys Bowen, Kerry Greenwood and Jacqueline Winspear comes an adventure-packed romp that threads 1934 Sydney's upper class and its seedy underworld.
Wealthy Rowland Sinclair, an artist with leftist friends and a free-wheeling lifestyle, reluctantly agrees to a charity race. He'll drive his beloved yellow Mercedes on the Maroubra Speedway, renamed the Killer Track for the lives it has claimed. His teammates are a young Errol Flynn and the well-known driver Joan Richmond. It's all good fun. But then people start to die…
The body of a journalist covering the race is found murdered in a House of Horrors. An English blueblood with Blackshirt affiliations dies in a Maroubra crash. Reporters stalk Rowly for dirt while bookmakers are after an edge. When someone takes a shot at him—it could be anyone. Then the police arrest one of Rowly's housemates for murder.
Winner of the 2018 Ned Kelly Award for Best Mystery.
Other Rowland Sinclair Mysteries:
A Few Right Thinking Men
A Decline in Prophets
Miles off Course
Paving the New Road
A Murder Unmentioned
Gentlemen Formerly Dressed