Where do you get your ideas? Barbara Peters, owner of The Poisoned Pen, doesn't ask that question, but authors Nick Petrie and Andrew Grant both talked about their inspiration at a recent event. Petrie's latest Peter Ash thriller, The Wild One, is set in Iceland. Andrew Grant talked about his second Paul McGrath thriller, Too Close to Home. Signed copies of both books, and other books by the authors, are available through the Web Store. https://store.poisonedpen.com/
Here's The Wild One by Nick Petrie, the fifth Peter Ash novel.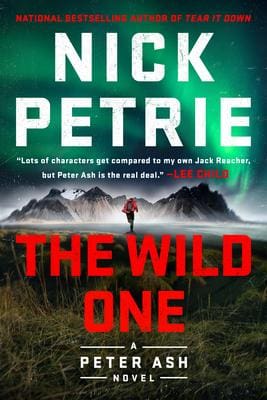 War veteran Peter Ash tracks a murderer and his criminal family through the most forbidding and stark landscape he has ever encountered, in the latest thriller from the bestselling author of The Drifter.
Losing ground in his fight against post-traumatic claustrophobia, war veteran Peter Ash has no intention of getting on an airplane–until a grieving woman asks Peter to find her eight-year-old grandson. The woman's daughter has been murdered. Erik, the dead daughter's husband, is the sole suspect, and he has taken his young son and fled to Iceland for the protection of Erik's lawless family.
     Finding the boy becomes more complicated when Peter is met at the airport by a man from the United States Embassy. For reasons both unknown and unofficial, it seems that Peter's own government doesn't want him in Iceland. The police give Peter two days of sightseeing in Reykjavik before he must report back for the first available seat home. . . and when they realize Peter isn't going home until he accomplishes his mission, they start hunting him, too.
     From the northernmost European capital to a rustbound fishing vessel to a remote farm a stone's throw from the arctic, Peter must confront his growing PTSD and the most powerful Icelandic snowstorm in a generation to find a killer, save an eight-year-old boy, and keep himself out of an Icelandic prison–or a cold Icelandic grave.
*****
Here's the description of Andrew Grant's Too Close to Home.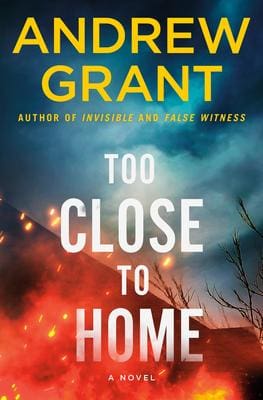 His cover: courthouse janitor. His cause: justice. But when Paul McGrath uncovers a shocking connection to a file of missing evidence, he finds the truth sometimes hits a little too close to home.
 
An intelligence agent-turned-courthouse janitor, Paul McGrath notices everything and everyone—but no one notices him. It's the perfect cover for the justice he seeks for both his father and the people who've been wronged by a corrupt system. Now he's discovered a missing file on Alex Pardew—the man who defrauded and likely murdered McGrath's father but avoided conviction, thanks in large part to the loss of this very file. And what lies behind its disappearance is even worse than McGrath had feared. 
 
Meanwhile, at the courthouse, he stumbles on the case of Len Hendrie, a small businessman who's been accused of torching a venture capitalist's mansion. Though Hendrie admits starting the fire, McGrath learns how the VC has preyed on average Joes to benefit himself—and his extensive wine collection. McGrath can't resist looking deeper into this financial predator and soon finds himself in a gray area between his avenging moral compass and the limits of the law. 
 
Then, just as the Hendrie case is heating up, McGrath receives word of the death of his father's former housekeeper, sending him back to his family home to confront unfinished business from his past. And he's about to find some unwelcome truths about the mother he lost as a child—and the father who hid even more secrets than he realized.
*****
What inspired books by these authors? Check out the video of the recent event to find out.