As Poisoned Pen Press/Sourcebooks author Donis Casey finished her Alafair Tucker series, she launched a new one with The Wrong Girl.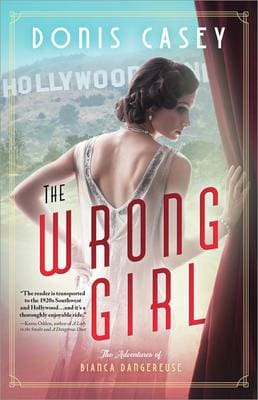 The new series is set in Hollywood during the Roaring 20s. You can find it, and Casey's other books, in the Web Store. https://bit.ly/2F9BIwo
With her book set in the 1920s, Casey recently shared her thoughts about other books set then in an article for CrimeReads called "5 Mysteries Set Between the World Wars." Here's the link. https://bit.ly/2sIgLb2
And, here's the description of Donis Casey's own book set then, The Wrong Girl.
They say a life well-lived is the best revenge…
Blanche Tucker longs to escape her drop-dead dull life in tiny Boynton, Oklahoma. Then dashing Graham Peyton roars into town. Posing as a film producer, Graham convinces the ambitious but naive teenager to run away with him to a glamorous new life. Instead, Graham uses her as cruelly as a silent picture villain. Yet by luck and by pluck, taking charge of her life, she makes it to Hollywood.
Six years later, Blanche has transformed into the celebrated Bianca LaBelle, the reclusive star of a series of adventure films, and Peyton's remains are discovered on a Santa Monica beach. Is there a connection? With all of the twists and turns of a 1920s melodrama, The Wrong Girl follows the daring exploits of a girl who chases her dream from the farm to old Hollywood, while showing just how risky—and rewarding—it can be to go off script.