Mark de Castrique's seventh Blackman Agency Investigations mystery, Murder in Rat Alley, will be released on December 31. Signed copies of the Poisoned Pen Press/Sourcebooks title can be pre-ordered through the Web Store, or you can order copies of the other books in the series. https://bit.ly/2L2fHmE
Why talk about Murder in Rat Alley right now? Mark just wrote an article for Bookreporter.com called, "The Story Behind the Stories" that provides some background for these books. You can read it here. https://bit.ly/2PuQogk
Then, you can pre-order Murder in Rat Alley. The description is below.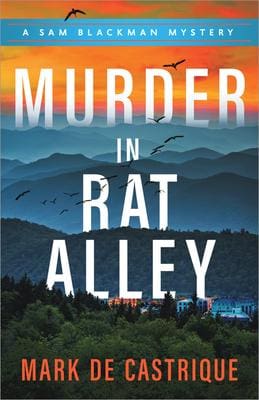 In this unusual spin on the classic spy novel, murder strikes from our wartime pasts…
Iraq War veteran Sam Blackman with his prosthetic leg and his no-nonsense private eye partner Nakayla Robertson love their investigations which always carry a thread from the past—and they love each other. An interracial couple in the new South, the Asheville, NC, pair has surrounded themselves with a terrific support team including an unorthodox lawyer and a veteran cop. They deploy humor both to bind them together and to deflect insults. Plus, it helps deal with the tragedies their work uncovers.
Such a tragedy interrupts a meeting between the PIs and the neighboring law office when a body is unearthed from the grounds of the nearby Pisgah Astronomical Research Institute. During the Cold War it monitored developing space programs. Today it plays a vital role gathering weather and climate data. The body has been in the ground a long time. Why would its discovery spark off a new murder in Asheville's mountain music scene, the victim found amid the garbage of dark, dank Rat Alley?
She was the fiancée of the man murdered long ago. But surely this case is more than a domestic drama playing out over time….
The Blackman Agency Investigations excel at merging past and present, bringing little-known history to light, and are perfect for fans of James Lee Burke, Stephen Mack Jones, Margaret Maron, and Robert B. Parker.