Barbara Peters, owner of The Poisoned Pen, and Joseph Kanon, author of The Accomplice, have known each other for over twenty years. That always means a conversation will cover a lot of ground and a lot of history. You might want to order copies of Kanon's books, including a signed copy of The Accomplice, through the Web Store. https://bit.ly/32jNjnG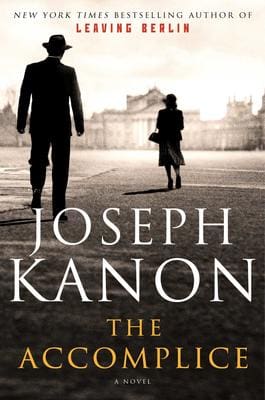 Here's the summary of The Accomplice.
"Gripping and authentic…Kanon's imagination flourishes [and] the narrative propulsion is clear. A thoroughly satisfying piece of entertainment that extends a tentacle into some serious moral reflection." —The New York Times Book Review
The "master of the genre" (The Washington Post) Joseph Kanon returns with a heart-pounding and intelligent espionage novel about a Nazi war criminal who was supposed to be dead, the rogue CIA agent on his trail, and the beautiful woman connected to them both.
Seventeen years after the fall of the Third Reich, Max Weill has never forgotten the atrocities he saw as a prisoner at Auschwitz—nor the face of Dr. Otto Schramm, a camp doctor who worked with Mengele on appalling experiments and who sent Max's family to the gas chambers. As the war came to a close, Schramm was one of the many high-ranking former-Nazi officers who managed to escape Germany for new lives in South America, where leaders like Argentina's Juan Perón gave them safe harbor and new identities. With his life nearing its end, Max asks his nephew Aaron Wiley—an American CIA desk analyst—to complete the task Max never could: to track down Otto in Argentina, capture him, and bring him back to Germany to stand trial.
Unable to deny Max, Aaron travels to Buenos Aires and discovers a city where Nazis thrive in plain sight, mingling with Argentine high society. He ingratiates himself with Otto's alluring but wounded daughter, whom he's convinced is hiding her father. Enlisting the help of a German newspaper reporter, an Israeli agent, and the obliging CIA station chief in Buenos Aires, he hunts for Otto—a complicated monster, unexpectedly human but still capable of murder if cornered. Unable to distinguish allies from enemies, Aaron will ultimately have to discover not only Otto, but the boundaries of his own personal morality, how far he is prepared to go to render justice.
"With his remarkable emotional precision and mastery of tone" (Kirkus Reviews, starred review), Joseph Kanon crafts another compelling and unputdownable thriller that will keep you breathlessly turning the pages.
*****
And, here's your chance to hear that conversation between Joseph Kanon and Barbara Peters.