On Sunday, November 17 at 2 PM, author Paula Munier will appear at The Poisoned Pen, alongside authors Hank Early, Scott Graham, and Margaret Mizushima. John Valeri refers to Munier as "a triple threat". In a recent review for Criminal Element, he says, " In addition to serving as agent extraordinaire for a cadre of esteemed authors, she's written five popular non-fiction titles, including three on the craft of writing—Plot Perfect, The Writer's Guide to Beginnings, and Writing with Quiet Hands. Last year, she entered the realm of crime fiction with A Borrowing of Bones; that title—which was both a USA Today bestseller and a nominee for the prestigious Mary Higgins Clark Award—launched a new series featuring former military police officer Mercy Karr and her bomb-sniffing dog, Elvis. Their saga continues with November's Blind Search. " You can read Valeri's review of Blind Search here. https://bit.ly/372ONX9
Signed copies of Blind Search, along with copies of Munier's other books, are available through the Web Store. https://bit.ly/373HChB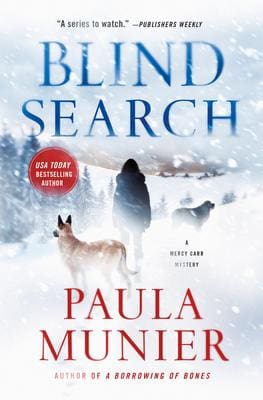 Here's the description of Blind Search.
Former Army MP Mercy Carr and her retired bomb-sniffing dog Elvis are back in Blind Search, the sequel to the page-turning, critically acclaimed A Borrowing of Bones
It's October, hunting season in the Green Mountains—and the Vermont wilderness has never been more beautiful or more dangerous. Especially for nine-year-old Henry, who's lost in the woods. Again. Only this time he sees something terrible. When a young woman is found shot through the heart with a fatal arrow, Mercy thinks that something is murder. But Henry, a math genius whose autism often silences him when he should speak up most, is not talking.
Now there's a murderer hiding among the hunters in the forest—and Mercy and Elvis must team up with their crime-solving friends, game warden Troy Warner and search-and-rescue dog Susie Bear, to find the killer—before the killer finds Henry. When an early season blizzard hits the mountains, cutting them off from the rest of the world, the race is on to solve the crime, apprehend the murderer, and keep the boy safe until the snowplows get through.
Inspired by the true search-and-rescue case of an autistic boy who got lost in the Vermont wilderness, Paula Munier's mystery is a compelling roller coaster ride through the worst of winter—and human nature.