John Sandford was enthusiastic about his conversation with author John Connolly, visiting from Ireland, and on book tour for A Book of Bones. He said he is a long-time fan. If you're a fan, or just discovering Connolly's books, you can find them in the Web Store. Signed copies of A Book of Bones are available. https://bit.ly/2BwhX2A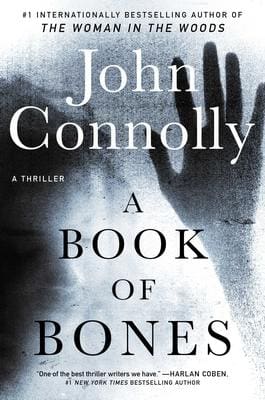 Here's the description of A Book of Bones.
"Complex, pulse-pounding…Connolly's nuanced characterizations and facility at creating spooky atmospherics make it easy to suspend disbelief about the threat of cosmic horror from other dimensions."—Publishers Weekly (starred review)
Private Investigator Charlie Parker returns in this heart-pounding thriller as he seeks revenge against the darkest forces in the world, from the internationally bestselling author of the acclaimed The Woman in the Woods.
He is our best hope.
He is our last hope.
On a lonely moor in northern England, the body of a young woman is discovered. In the south, a girl lies buried beneath a Saxon mound. To the southeast, the ruins of a priory hide a human skull.
Each is a sacrifice, a summons. And something in the darkness has heard the call.
Charlie Parker has also heard it and from the forests of Maine to the deserts of the Mexican border, from the canals of Amsterdam to the streets of London, he will track those who would cast the world into darkness.
Parker fears no evil—but evil fears him.
With John Connolly's signature "blend of crime and supernatural horror" (Crime Reads), A Book of Bones is a terrifying and suspenseful thrill ride that will keep you guessing until the very last page.
*****
Please join the audience as they welcome John Connolly to The Poisoned Pen.