Authors James R. Benn and Martin Limon recently joined Barbara Peters, owner of The Poisoned Pen, for a far-ranging conversation about time periods, settings, characters, and labeling genres. Benn is on book tour for When Hell Struck Twelve. Limon's latest book is G.I. Confidential. Both books are the fourteenth in the series. You can order signed copies through the Web Store. https://store.poisonedpen.com/
You can eavesdrop on the conversation, if you'd like.
As I said, James R. Benn's latest Billy Boyle mystery is When Hell Struck Twelve. Here's the description.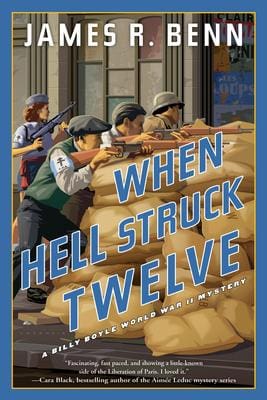 In the 14th Billy Boyle mystery, US Army detective Billy Boyle and Lieutenant Kazimierz travel into the heart of Nazi-occupied Paris on a dangerous mission: ensure a traitor to the French Resistance unwittingly carries out a high-stakes deception campaign.

August, 1944: US Army detective Billy Boyle is assigned to track down a French traitor, code-named Atlantik, who is delivering classified Allied plans to German leaders in occupied Paris. The Resistance is also hot on his trail and out for blood, after Atlantik's previous betrayals led to the death of many of their members. But the plans Atlantik carries were leaked on purpose, a ruse devised to obscure the Allied army's real intentions to bypass Paris in a race to the German border. Now Billy and Kaz are assigned to the Resistance with orders to not let them capture the traitor: the deception campaign is too important. Playing a delicate game, the chase must be close enough to spur the traitor on and visible enough to ensure the Germans trust Atlantik. The outcome of the war may well depend on it.
*****
Martin Limon's G.I. Confidential is a Sueno and Bascom mystery.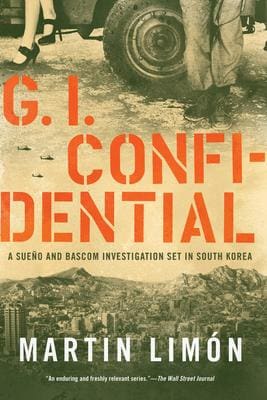 US Army CID Agents George Sueño and Ernie Bascom become entangled with a pushy tabloid reporter as they investigate a series of violent bank robberies throughout South Korea.

South Korea, 1970s: A rash of armed robberies at local Korean banks doesn't concern the American military—until a fatality occurs, and proof surfaces that US soldiers are behind the crimes. The case has been assigned to CID Agents Jake Burrows and Felix Slabem, but they certainly won't do anything that might make 8th United States Army look bad. So Sergeants George Sueño and Ernie Bascom have decided to step in and investigate the robberies—and murder—themselves.

George and Ernie have their own problems to worry about, namely Katie Byrd Worthington, a pesky reporter for the Overseas Observer—an unsanctioned English-language tabloid that has found strong roots in South Korea. Katie has published a story that implicates Army higher-ups in both sex trafficking and treason, and the pressure is on for the CID to disprove her claims. But what if they aren't false? As George and Ernie dig deeper into the case, they find themselves the targets of a very unflattering publicity campaign, but perhaps also something much more dangerous.