If the name Paddy Hirsch is familiar to you, and not from his Justice Flanagan thrillers, it may be because he's an NPR reporter and producer. But, he appeared at The Poisoned Pen on an unusual night for Scottsdale, Arizona. There was a downpour; the store flooded, and Hirsch helped with the mopping up.
However, he was actually at the bookstore to discuss his second book in his historical thriller series. He takes readers back to early 19th century New York City in Hudson's Kill. You can order copies of both books in the series through the Web Store. The Devil's Half Mile is the first book. There are signed copies available of Hudson's Kill. https://bit.ly/2mbfu9E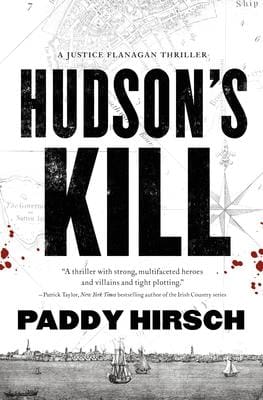 Here's the summary of Hudson's Kill.
Set in 1803 New York, Hudson's Kill is the riveting next historical thriller from NPR reporter and producer Paddy Hirsch, perfect for fans of The Alienist and Gangs of New York.
New York in 1803 is rife with tension as the city expands, and whoever knows where the city will build can control it. And violence builds as a mysterious provocateur pits the city's black and Irish gangs against each other.
When a young black girl is found stabbed to death, both Justy Flanagan, now a City Marshal, and Kerry O'Toole, now a school teacher, decide separately to go after the killer. They each find their way to a shadowy community on the fringes of the growing city, where they uncover a craven political conspiracy bound up with a criminal enterprise that is stunning in its depravity.
Justy and Kerry have to fight to save themselves and the city, and only then can they bring the girl's killer to justice.
*****
You'll want to listen to Barbara Peters, owner of The Pen, Patrick Millikin, and Paddy Hirsch discuss Hudson's Kill.