As Barbara Peters, owner of The Poisoned Pen says, it's always fun to introduce a debut author. Sara E. Johnson, author of Molten Mud Murder, a mystery set in New Zealand, recently appeared at the bookstore. You can order a signed copy of the debut through the Web Store. https://bit.ly/2PKbISm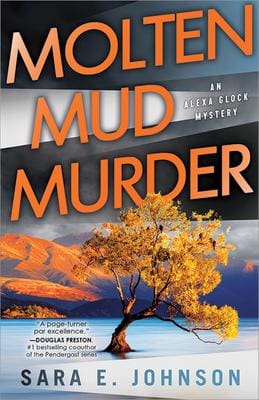 Peters introduced the Johnson, and now you can "meet" her and hear about New Zealand and the book via the video.
Here's the description of Molten Mud Murder.
Is the past better left undisturbed, or unearthed?
When a body is found half-submerged in a molten mud pot in one of Rotorua's famous geothermal wonderlands, forensics expert Alexa Glock spots a way to prolong her stay in New Zealand, which she has been visiting for work. Teeth are her expertise, and the investigation needs her help, as other ways of identifying the body may have… melted away.
Joining Detective Inspector Bruce Horne and his team, Alexa discovers that the murder victim, a city councilman, had trespassed on an island sacred to the Maori. The ancient punishment for such a transgression is disaster, demonic possession, or death… and when she visits the island to investigate, the same outcome is promised for her. Alexa doesn't believe in ancient spirits returning to exact revenge, and when another victim turns up dead she begins to wonder whether the real threat is something—or someone—much closer to home.