Geneva Chase, the protagonist in Thomas Kies' series, is a journalist and an alcoholic. She's currently appearing in the third book in his series, Graveyard Bay. With a distinctive protagonist, he turns to the topic of "4 Iconic Crime Protagonists Who Are Even More Memorable Than Their Stories." Kies' article appears on CrimeReads at https://bit.ly/2ke3cw6.
Kies' Graveyard Bay can be ordered through the Web Store. https://bit.ly/2NHg1bS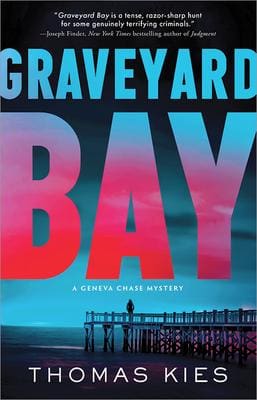 Here's the description of Graveyard Bay.
Time is running out…
The nude bodies of a corrupt judge and a Jane Doe are found under the icy, black waters at Groward Bay Marina, chained to the prongs of a mammoth fork lift. A videotape points to Merlin Finn, a ruthless gang leader with a proclivity for bondage and S&M who had recently broken out of prison. In the videotape, he's wearing a black leather bondage mask.
With the newspaper she works for about to be sold and her job in jeopardy, journalist Geneva Chase investigates pill mills, crooked doctors, and a massive money laundering scheme in an attempt to identify the murdered woman and find the killer. Along the way, she finds herself working with a disgraced New York cop and a host of other unlikely characters with ties to the criminal underworld.
Geneva is clearly hot on the killer's trail, but when she is kidnapped and held at the mercy of the criminals she hoped to stop, it looks like her chance to uncover the darkness that has seeped through her hometown may be lost forever.