Lisa Lutz, author of The Swallows, recently appeared at The Poisoned Pen. Before you read the CrimeReads interview with her, you might want to check out the book. You can still order a signed copy of The Swallows through the Web Store. https://bit.ly/2Lber39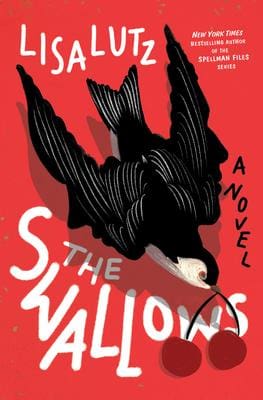 Here's the description of The Swallows.
A teacher at a New England prep school ignites a gender war—with deadly consequences—in this dark and provocative novel by the bestselling author of The Passenger

"Riveting . . . full of imagination and power."—Caroline Kepnes, author of You and Providence

NAMED ONE OF THE BEST BOOKS OF AUGUST BY Bustle "¢ Entertainment Weekly "¢ PopSugar "¢ Refinery29 "¢ New York Post
When Alexandra Witt joins the faculty at Stonebridge Academy, she's hoping to put a painful past behind her. Then one of her creative writing assignments generates some disturbing responses from students. Before long, Alex is immersed in an investigation of the students atop the school's social hierarchy—and their connection to something called the Darkroom. She soon inspires the girls who've started to question the school's "boys will be boys" attitude and incites a resistance. But just as the movement is gaining momentum, Alex attracts the attention of an unknown enemy who knows a little too much about her—and what brought her to Stonebridge in the first place.
Meanwhile, Gemma, a defiant senior, has been plotting her attack for years, waiting for the right moment. Shy loner Norman hates his role in the Darkroom, but can't find the courage to fight back until he makes an unlikely alliance. And then there's Finn Ford, an English teacher with a shady reputation, who keeps one eye on his literary ambitions and one on Ms. Witt. As the school's secrets begin to trickle out, a boys-versus-girls skirmish turns into an all-out war, with deeply personal—and potentially fatal—consequences for everyone involved.
Lisa Lutz's blistering, timely tale of revenge and disruption shows us what can happen when silence wins out over decency for too long—and why the scariest threat of all might be the idea that sooner or later, girls will be girls.
Praise for The Swallows
"The Swallows is fast-moving, darkly humorous and at times shockingly vicious. The battle of the sexes within its pages couldn't be more compelling. . . . Lutz delivers a frantic, morbidly funny story."—BookPage

"A decade before the #MeToo movement kicks off in full force, women are coming for the patriarchy in this big ol' novel, ripe with idiosyncratic characterization and memorable scenes."—Refinery29
*****
If you'd like to Olivia Rutigliano's interview with Lisa Lutz, you can check out the article, "Lisa Lutz on Creating Iconic Female Protagonists", an article at CrimeReads' site, https://bit.ly/2PNoy2D