It's time to share this announcement from the Australian Crime Writers Association. You'll also want to check out the note following the shortlists.
Monday August 19: The Australian Crime Writers Association has announced the shortlist for the NED KELLY AWARDS 2019. Now in its 24th year the Awards are Australia's oldest and most prestigious crime writing awards.
Past winners have included Jon Cleary, Peter Corris, Adrian McKinty, Jane Harper, Helen Garner, Peter Temple and Michael Robotham. This year has seen the largest number of entries received in the Awards' history.
ACWA's Deputy Chair, Robert Goodman said, "The Ned Kelly Awards celebrate some of Australia's most exciting crime storytellers. They play a vital role in championing local crime writers and the Australian publishing industry both here and overseas.
"The three 2019 shortlists contain a diverse collection of works from both emerging writers and some of our best-known and best-loved crime authors."
"I congratulate all authors on making this year's shortlists. They contribute not only to our cultural life but demonstrate Australia's well-deserved reputation as the home of some of the world's best crime writing."
The awards will be held in Sydney on Friday September 6 at the Harold Park Tramsheds and will be MCed by Jane Clifton as part of the BAD Sydney Crime Writers Festival. For tickets and further information, go to https://www.austcrimewriters.com.VIEW THE SHORTLISTS NOW
BEST TRUE CRIME
Eggshell Skull "" Bri Lee
(Allen & Unwin)
The Arsonist "" Chloe Hooper
(Penguin Random House)
The Lindt Café Siege "" Deborah Snow
(Allen & Unwin)
Waiting for Elijah "" Kate Wild
(Scribe Publishing)
BEST FIRST FICTION
The Portrait of Molly Dean "" Katherine Kovacic
(Echo Publishing)
The Rúin "" Dervla McTiernan
(HarperCollins Australia)
The Yellow House "" Emily O'Grady
(Allen & Unwin)
Greenlight "" Ben Stevenson
(Penguin Books Australia)
BEST FICTION
Kill Shot "" Garry Disher
(Text Publishing)
Gone By Midnight "" Candice Fox
(Penguin Random House)
The Spotted Dog "" Kerry Greenwood
(Allen & Unwin)
The Lost Man "" Jane Harper
(Macmillan Australia)
The Other Wife "" Michael Robotham
(Hachette Australia)
Live and Let Fry "" Sue Williams
(Text Publishing)
*****
You'll undoubtedly recognize some of the authors' names, especially under Best Fiction. Sourcebooks/Poisoned Pen Press is the U.S. publisher of Kerry Greenwood's The Spotted Dog. The cover is not the same as the Australian edition. However, if you want to check out any of the books, check the Web Store. And, look for The Spotted Dog. You can pre-order that seventh Corinna Chapman mystery. It's due out in September. https://bit.ly/2Hy7rv7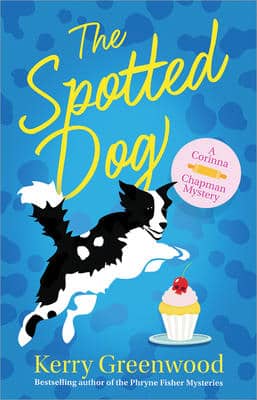 Betrayal is a bitter pill to swallow…
Rising at four o'clock every morning isn't Corinna Chapman's favorite part of running her Australian bakery, Earthly Delights, and the glowing light of dawn starts to feel even harsher when a seemingly disturbed man collapses in her shop. When the man, a military veteran, comes around and reveals that his beloved ex-service dog is missing, Corinna and her longtime companion, Daniel, feel compelled to help. It soon becomes clear, though, that they have gotten involved in something much bigger and more complicated than they had bargained for… especially when threatening notes begin to appear in Corinna's apartment.
Along with searching for the kidnapped dog and trying to stay out of range of the gang of drug runners who are probably responsible for his disappearance, Corinna has to make sure the delicious breads, muffins, and treats that she has become known for are still fresh and ready for her eager customers. Can she take the heat?