I've been waiting to see and share this video, so I'm happy The Poisoned Pen posted it. Billy Jensen, author of Chase Darkness with Me: How One True-Crime Writer Started Solving Murders, and Hank Phillippi Ryan, author of The Murder List, recently appeared at The Pen together. Both authors are journalists. You'll be able to see them talk about their books and their careers in just a minute. In the meantime, you can order signed copies of their books through the Web Store. https://store.poisonedpen.com
Heres the description of Jensen's Chase Darkness with Me.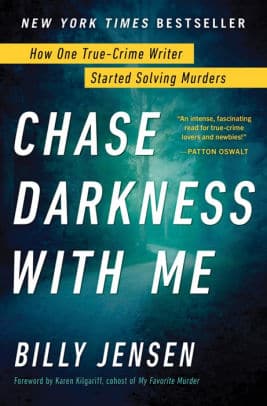 ***With an exclusive behind-the-scenes conversation between Billy Jensen and retired detective Paul Holes on the Golden State Killer, their favorite cold cases, and more***
Have you ever wanted to solve a murder? Gather the clues the police overlooked? Put together the pieces? Identify the suspect?
Journalist Billy Jensen spent fifteen years investigating unsolved murders, fighting for the families of victims. Every story he wrote had one thing in common—they didn't have an ending. The killer was still out there.
But after the sudden death of a friend, crime writer and author of I'll Be Gone in the Dark, Michelle McNamara, Billy became fed up. Following a dark night, he came up with a plan. A plan to investigate past the point when the cops had given up. A plan to solve the murders himself.
You'll ride shotgun as Billy identifies the Halloween Mask Murderer, finds a missing girl in the California Redwoods, and investigates the only other murder in New York City on 9/11. You'll hear intimate details of the hunts for two of the most terrifying serial killers in history: his friend Michelle McNamara's pursuit of the Golden State Killer and his own quest to find the murderer of the Allenstown Four. And Billy gives you the tools—and the rules—to help solve murders yourself.
Gripping, complex, unforgettable, Chase Darkness with Me is an examination of the evil forces that walk among us, illustrating a novel way to catch those killers, and a true-crime narrative unlike any you've read before.
*****
Here's the summary of Hank Phillippi Ryan's The Murder List.
"An exhilarating thrill ride that keeps you turning pages.. Ryan deftly delivers a denouement as shocking as it is satisfying."–Liv Constantine, bestselling author of The Last Mrs. Parrish and The Last Time I Saw You
Law student Rachel North will tell you, without hesitation, what she knows to be true. She's smart, she's a hard worker, she does the right thing, she's successfully married to a faithful and devoted husband, a lion of Boston's defense bar, and her internship with the Boston DA's office is her ticket to a successful future.
Problem is–she's wrong.
And in this cat and mouse game–the battle for justice becomes a battle for survival.
The Murder List is a new standalone suspense novel in the tradition of Lisa Scottoline and B. A. Paris from award-winning author and reporter Hank Phillippi Ryan.
*****
Now, here's what you really want to see today on the blog. Barbara Peters, owner of The Poisoned Pen, introduces Billy Jensen and Hank Phillippi Ryan.