Priscilla Royal's latest medieval mystery, her fifteenth, is just out from Sourcebooks/Poisoned Pen Press. The publication of The Twice-Hanged Man means it's the perfect time for her to discuss why she writes medieval mysteries. You can find her recent essay in CrimeReads. https://bit.ly/2ZKffka
You can order The Twice-Hanged Man through the Web Store. https://bit.ly/2OMkn6n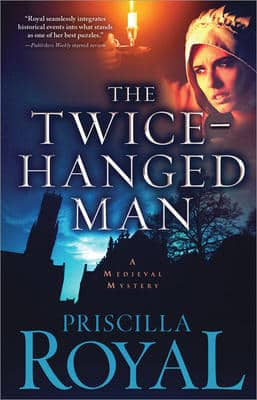 Here's the summary.
Autumn, 1282
As Edward I wages a bloody conflict with Wales, Prioress Eleanor escorts her younger brother, Robert, and his wife, who is in labor, from their Marcher lands to greater safety at a Wynethorpe manor in a village just inside the English border. They are joined by Brother Thomas, the Prioress's trusted friend, and Sister Anne, who helps navigate the difficult birth and delivers a baby girl.
Mother and child may be healthy, but Death never wanders far from this beloved Prioress—whether she's home at Tyndal in Norfolk or traveling the realm. The local abbot begs her help—the village priest has been found dead and standing over him is, a reliable witness says, the ghost of Hywel, the village stonemason who was recently hanged for slaying some sleeping English soldiers.
Bone tired, Brother Thomas questions the village hangman, who assures him that Hywel was hanged once and then, when the weight of the fat felon strung up alongside him broke the beam of the gallows, was hanged again. The experienced executioner checked all the bodily signs—Hywel was dead. But where is his grave? And what secrets are the mysterious locals keeping from the outsiders visiting their troubled home?