It was a packed house on the evening Barbara Peters, owner of The Poisoned Pen, turned the mike over to Greaney, author of Red Metal. He discussed books with Jack Carr, author of True Believer, and Stephen Hunter, whose latest Bob Lee Swagger book is Game of Snipers. You can order signed copies of all three books through the Web Store. https://store.poisonedpen.com
If you missed the event, you can watch it now.
Here is the summary of True Believer.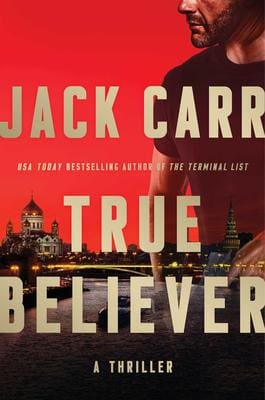 "This is seriously good. I mean—seriously. Both author Jack Carr and main character James Reece are the real deal, the action is razor sharp, the suspense is unrelenting, and the tradecraft is so authentic the government will probably ban it—so read it while you can!" —Lee Child, #1 New York Times bestselling author of Past Tense
"A powerful, thoughtful, realistic, at times terrifying thriller that I could not put down. A terrific addition to the genre, Jack Carr and his alter-ego protagonist, James Reece, continue to blow me away."—Mark Greaney, #1 New York Times bestselling author of Mission Critical
"True Believer, the highly anticipated new thriller from Jack Carr, is one of this year's hottest thrillers, and a perfect fit for fans of Vince Flynn, Brad Thor, and Daniel Silva." —The Real Book Spy
In acclaimed author Jack Carr's follow-up to The Terminal List, former Navy SEAL James Reece's skill, cunning, and heroism put the US government back in his debt and set him on another path of revenge.
When a string of horrific terrorist attacks plagues the Western world during the holiday season, the broader markets fall into a tailspin. The attacks are being coordinated by a shadowy former Iraqi commando who has disappeared into Europe's underground. The United States government has an asset who can turn the Iraqi against his masters: James Reece, the most-wanted domestic terrorist alive.
After avenging the deaths of his family and team members, Reece emerges deep in the wilds of Mozambique, protected by the family of his estranged best friend and former SEAL Team member. When a series of events uncovers his whereabouts, the CIA recruits him, using a Presidential pardon for Reece and immunity for the friends who helped him in his mission of vengeance.
Now a reluctant tool of the United States government, Reece travels the globe, targeting terrorist leaders and unraveling a geopolitical conspiracy that exposes a traitorous CIA officer and uncovers a sinister assassination plot with worldwide repercussions.
A high-intensity roller-coaster ride, True Believer explodes with action and authenticity that cements Jack Carr as the new leader in political thrillers.
*****
Here's Stephen Hunter's Game of Snipers.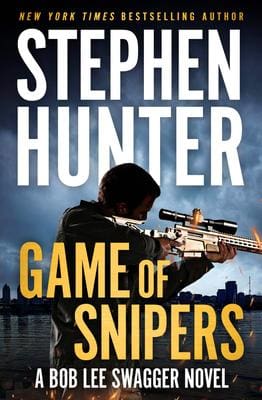 "Bob Lee Swagger is a true American literary icon."–Mark Greaney, New York Times Bestselling Author of Mission Critical

In this blazing new thriller from Pulitzer Prize winner Stephen Hunter, master sniper Bob Lee Swagger takes on his biggest job to date…and confronts an assassin with skills that match his own.
When Bob Lee Swagger is approached by a woman who lost a son to war and has spent the years since risking all that she has to find the sniper who pulled the trigger, he knows right away he'll do everything in his power to help her. But what begins as a favor becomes an obsession, and soon Swagger is back in the action, teaming up with the Mossad, the FBI, and local American law enforcement as he tracks a sniper who is his own equal…and attempts to decipher that assassin's ultimate target before it's too late.
With all-too-real threats and a twisty, masterful storytelling, Game of Snipersis another gripping addition to a bestselling Bob Lee Swagger series.
*****
And, here's the description of Red Metal by Mark Greaney.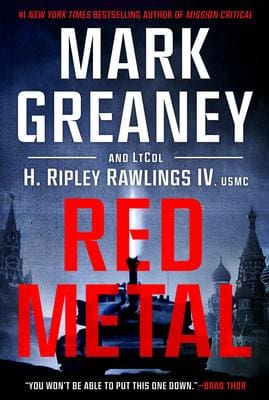 A Russian military strike against Europe could change the balance of power in the West. A stunningly realistic view of modern warfare from a battlefield commander and the New York Times bestselling author of The Gray Man.
The Russian bear has awakened. Their tanks race across Poland crushing all opposition on a headlong dash for the heart of Germany. Satellite killing missiles blind American forces while Spetznatz teams destroy Allied communications relays. It's all part of a master plan to confuse and defeat America and her allies.
Ranged against the Russian attack are a Marine lieutenant colonel pulled out of a cushy job at the Pentagon and thrown into the fray, a French Special Forces captain and his intelligence operative father, a young Polish female partisan fighter, an A-10 Warthog pilot, and the captain of an American tank platoon who, along with a German sergeant, struggle to keep a small group of American and German tanks in the fight.
Operation Red Metal is a nightmare scenario made real but could it just be the first move on the Russian chessboard?