Perhaps Martin Walker's Bruno, Chief of Police novels are not as well known in the United States as they are in Germany, Austria and Switzerland. In his recent conversation with Barbara Peters, owner of The Poisoned Pen, he comments that last year's title is currently #1 on the bestseller lists in all three of those countries. However, American readers are lucky enough to have the new one available, The Body in the Castle Well. Walker was at the Pen recently to discuss his books with Peters. You can find copies of the books, including signed copies of The Body in the Castle Well, in the Web Store. https://bit.ly/2ynMUXE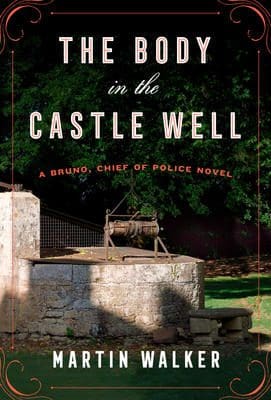 Here's the description of the latest Bruno book.
An aging art scholar and a visiting student, haunting echoes of France's colonialist past, and a delicious navarin of lamb–Bruno is back, and his latest case leads him from the Renaissance to the French Resistance and beyond by way of a corpse at the bottom of a well.
When Claudia, a young American, turns up dead in the courtyard of an ancient castle in Bruno's jurisdiction, her death is assumed to be an accident related to opioid use. But her doctor persuades Bruno that things may not be so simple. Thus begins an investigation that leads Bruno to Monsieur de Bourdeille, the scholar with whom the girl had been studying, and then through that man's past. He is a renowned art historian who became extraordinarily wealthy through the sale of paintings that may have been falsely attributed–or so Claudia suggested shortly before her death. In his younger days, Bourdeille had aided the Resistance and been arrested by a Vichy policeman whose own life story also becomes inexorably entangled with the case. Also in the mix is a young falconer who works at the Château des Milandes, the former home of fabled jazz singer Josephine Baker. In the end, of course, Bruno will tie all the loose threads together and see that justice is served–along with a generous helping of his signature Périgordian cuisine.
*****
Whenever you have time, you might enjoy the Martin Walker event at The Poisoned Pen.