On Saturday, June 1 at 6:30 PM, Douglas Preston will be back at The Poisoned Pen to discuss his book, Talking to the Ground. Preston's latest newsletter urges interested readers to order the book now from The Poisoned Pen because there will only be 600 copies available. You can pre-order your signed copy here. https://bit.ly/2XERvwG
No one can summarize Talking to the Ground better than Preston himself. Here's his latest newsletter.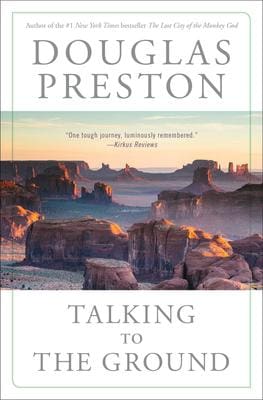 To my excellent readers,

One of the most personal and favorite of my books, Talking to the Ground, will be published in a new edition on June 4—with an Afterword I wrote,entitled "The Great Terror."

The book tells the incredible story of a four-hundred-mile journey I took
on horseback through the Navajo Nation with my fiancée and daughter,
retracing the journey of the gods during the creation of the world. This is an actual route that can still be mapped through Utah, Arizona, and New Mexico.

The new Afterword brings the story up to date with extremely disturbing discoveries about what happened to the ancient Puebloan Indians who
left their great ruins scattered across the Southwest, in places like Chaco Canyon and Canyon de Chelly.

I have personally autographed copies of this new, high-quality softcover
edition for my readers, available from the Poisoned Pen Bookstore—for $17 only, with free shipping! 

You can purchase through this link. 

But please order right away, as the supply of signed books is limited to
600 and will go quickly. 

As you know, we always try to entertain our newsletter subscribers
instead of just trying to sell them something. So to that end, I've included some amazing photos of our journey at the bottom of this email, some of which do not appear in the book.

Rather than tell you more about the book myself, I'd like to quote from an eloquent Amazon review by a Native American reader named Marty
DeLand:

There have come and gone many writers who promised us a journey
through Navajoland: some in the form of mystery yarn-spinners, others as
locally homegrown contributors to Arizona Highways. In and of itself,
going forth into such a dangerous and beautiful place is a damned difficult thing to do. Then to return from out of that American Holyland with even
the smallest comprehension of what abides there is a feat so extraordinary that only two have accomplished it: LaFarge with his "The Enemy Gods"
and Abbey's distant runner-up, "Desert Solitaire".  Finally, we can add a
third name to that short list: Douglas Preston.

"Talking to the Ground" begins as a family adventure by horseback, tracing the footsteps of the Navajo Hero Twins. Preston, his fiancée Christine and her young daughter Selene, pass through some of the emptiest country in
our entire nation. However, their three-month ride is little more than a
device (albeit a fascinating and ballsy one) to reveal stunning truths about an alternate world inhabited by the Navajo. No author has ever conveyed
the living, beating heart of Navajo legends with such powerful intimacy. An encounter with an old sheepherder in search of his lost flock is nothing
short of breathtaking in its implications.

Preston relates a host of frightening moments as well, not all of which are horse, cliff or weather related. He leaves us with a profound sense of kinship to the Navajo people, and a clear and chilling vision of what awaits us if we fail to note the societal shipwrecks scattered throughout Navajoland: skeletons left behind by those ancients who would not read the writing on their own canyon walls.