In the past, we've shared Jacqueline Winspear's newsletters here. It's often fun to share the newsletter before the author appears at The Poisoned Pen, Sujata Massey, author of the forthcoming mystery, The Satapur Moonstone, will be at the bookstore on Saturday, May 25 at 2 PM, appearing at a tea with Jayne Ann Krentz and Meg Tilley. Massey is the bestselling author of the first Perveen Mistry mystery, The Widows of Malabar Hill. Both books are available through the Web Store, and you can pre-order a signed copy of The Satapur Moonstore. https://bit.ly/2Vo7Ub4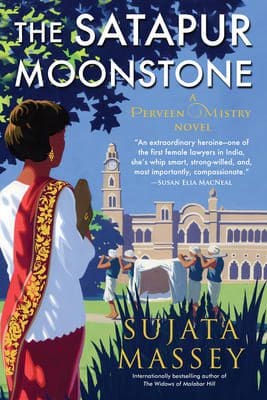 Here's the description of The Satapur Moonstone.
The highly anticipated follow-up to the critically acclaimed novel The Widows of Malabar Hill.
India, 1922: It is rainy season in the lush, remote Sahyadri mountains, where the princely state of Satapur is tucked away. A curse seems to have fallen upon Satapur's royal family, whose maharaja died of a sudden illness shortly before his teenage son was struck down in a tragic hunting accident. The state is now ruled by an agent of the British Raj on behalf of Satapur's two maharanis, the dowager queen and her daughter-in-law.

The royal ladies are in a dispute over the education of the young crown prince, and a lawyer's counsel is required. However, the maharanis live in purdah and do not speak to men. Just one person can help them: Perveen Mistry, Bombay's only female lawyer. Perveen is determined to bring peace to the royal house and make a sound recommendation for the young prince's future, but she arrives to find that the Satapur palace is full of cold-blooded power plays and ancient vendettas. Too late, she realizes she has walked into a trap. But whose? And how can she protect the royal children from the palace's deadly curse?
*****
By now, I hope you're curious. Here's Sujata Massey's Newsletter.
How's your spring going? I'm enjoying the sun, tulip and daffodil sightings, and a relatively quiet month to write before May and June, when I will be traveling the country to read from The Satapur Moonstone. The tour schedule so far includes Arizona, Delaware, Kansas, Maryland, Minnesota, New York, Texas and Wisconsin. Check in to my website next month to see dates that might include California and Washington State.
This book will be published May 14 in two editions, one from Soho Press, and the other from Penguin Random House India. There's also an audiobook coming out from Recorded Books.
More international sales in the year ahead: The Widows of Malabar Hill will be published in Korean, Japanese, French and Finnish. And The Satapur Moonstone is coming out in Finland and Italy. Tell your pen pals.
But back to The Satapur Moonstone. Perveen Mistry's assignment arrives after Sir David, Alice Hobson-Jones's father, hires her to make contact with a young maharaja and his family living in an isolated palace in the Sahyadri mountains. From the start of journey, Perveen senses something corrupt is occurring at the palace. Check out the first two chapters.
Publishers Weekly said: "Edgar finalist Massey's second whodunit featuring Bombay attorney Perveen Mistry is even better than the series' impressive debut."
And here's the review from Library Journal: "Massey does a superb job of combining a fascinating snapshot into 1920s British-ruled India with a top-notch mystery. She has created a strong, appealing heroine who is forging her own path in a rapidly changing world… Highly recommended for fans of other intrepid women sleuths such as Elizabeth Peters's Amelia Peabody and Tasha Alexander's Lady Emily."
It would be so much fun to meet in person when I'm on tour. And if I'm not scheduled for your area, would you please pre-order my book? That helps me and my publishers by leaps and bounds.
You can pre-order the US and World English Soho Press edition of The Satapur Moonstone at your local bookshop or with an online retailer.
South Asia residents, please preorder the Penguin Random House India edition!
And remember, library readers have star power. Please request the hardcover, large print edition, or audiobook now: this encourages librarians to order enough for everyone.
Even if I'm not coming to your town, here's another way we can talk. The Satapur Moonstone Book Club on Facebook Live is gathering at my author page on Facebook thirteen lucky days after publication. We will discuss everything—research, characters, ending—of The Satapur Moonstone at 8 PM ET/5 PM PT on Monday, May 27 (Memorial Day evening) in a video conference. This means you can see me relaxing my living room with my dogs—and use the sidebar feature on your computer screen to send me questions which I'll read aloud and answer. You will not be seen, but your questions will be heard loud and clear. If you are outside the US or Canada, please check if the time difference might allow you to join us, because you will be a VIP participant! The best way to remember this event is to sign up as "GOING" on the event page, and Facebook will remind you.
The whole show will be Q&A format and there will be prizes. Please join me!
Warmly,
Sujata
sujatamassey.com
P.S. If someone sent you this free email newsletter—and you'd like more recipes, free fiction, and information about India, Japan and writing several times each year—please subscribe by signing up here. Your name will never be sold, shared or distributed, and you can unsubscribe at any time. Thanks, and I can't wait to hear from you!
Gmail users report this newsletter sometimes is mistakenly sent into spam. Please add sujata@sujatamassey.com to your address book so you don't miss an issue!