It seems this is the week to say goodbye to long-running mystery series. Ed Ifkovic ends his Edna Ferber mystery series with the tenth book, Run Cold. The book is the Poisoned Pen's selection for the March History/Mystery Book of the Month. You can order copies of Ifkovic's books, including a signed copy of Run Cold, through the Web Store. https://bit.ly/2VOhkJA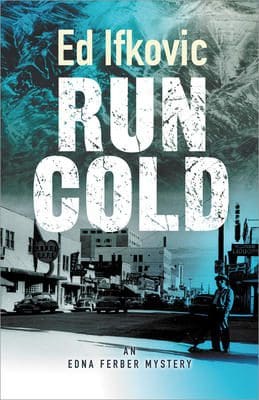 Ed Ifkovic has something to say about the book, and the series. But, before that link, here's the summary of the final book in the series, Run Cold.
"The Arctic trails have their secret tales
That would make your blood run cold."
—Robert W. Service, "The Cremation of Sam McGee"
Jack Mabie claims to be the meanest man in Alaska, yet the old sourdough seems to be just one of the crusty geezers in every roadhouse bewildered by how his lawless frontier life has morphed into the pastel 1950s world of martini cocktail bars up and down Fairbanks' Second Avenue.
Sonia Petrievich, an editor at The Gold, her father Hank's weekly pro-statehood paper, learns through the mukluk telegraph about Jack's gleeful account of murders and robberies and shell games during the gold rush days. Her breezy March 1957 profile lets Jack revel in newfound notoriety.
Edna Ferber, not completely satisfied with her forthcoming novel Ice Palace, has just returned for further research and is fascinated by Jack and his wild tales. Plus the previous summer, young Athabascan lawyer Noah West, a war hero and Sonia's lover, bent on bettering the lives of Alaskan Natives, had sharpened Edna's sense of a corner of the territory she'd ignored: "I felt I'd lost sight of the real Alaska, the heartless icebox in the North, the blank-eyed old-timers still haunted by gold… I'd forgotten Alaska is still frontier…a violent, mysterious world below the glossy skin I'd written about."
When Jack is found beaten to death, Noah becomes a suspect. Two violent deaths follow. Edna, Noah's advocate, decides she needs to clear his name, believing the murders are connected. As debates over potential statehood rage, Edna begins unearthing scandals and sordid stories hidden in Fairbanks but also dating back to village life in Fort Yukon and down into the Lower 48.
What horrible secrets carried from the Arctic Circle have led to so many murders? And what novelist could stand aside from this story?
*****
Ed Ifkovic wrote an essay that appeared in BookReporter.com. You might want to read, "North to Alaska: Researching Run Cold, the Final Edna Ferber Mystery". https://bit.ly/2CiJZ2b