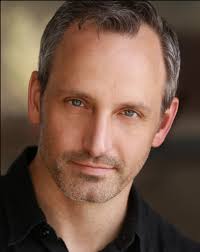 On Saturday March 16 at 2 PM, Glen Erik Hamilton, author of Mercy River, will appear to discuss and sign his latest Van Shaw novel. He'll be joined by Brad Parks, author of The Last Act. Signed copies of books by both authors are available through the Web Store. https://store.poisonedpen.com/
Parks had his chance to write a post for the blog last year. This time, I've invited Glen Erik Hamilton to sit "In the Hot Seat" and answer questions. Thank you, Glen.
Glen, would you introduce yourself to readers?
Hello People of the Poisoned Pen! I write the Van Shaw series of what I call mystery thrillers, for lack of an easier category. Mystery because there's usually something Van must investigate, and Thriller because those investigations inevitably lead into hazardous waters. My debut novel Past Crimes was nominated for a few lovely awards, including the Edgar, and won three of them: the Anthony, the Macavity, and the Strand Magazine Critics Award. I grew up in Seattle aboard a sailboat "" raiding my parents' collection of paperbacks when the wind didn't cooperate — and now live near Los Angeles with my family.
You know how much I love Van Shaw. Would you introduce him?
Van's an unusual beast.  He was raised in Seattle by his maternal grandfather, a Belfast émigré named Dono.  The two men share their full name, Donovan.  Dono was a former armed robber turned professional burglar, and he raised Van with that perspective and those skills.  Van was stealing cars, among many other things, long before he could legally drive.  The two men fell out when Van was eighteen and Van escaped into the Army.  To his surprise, he found a home in the Rangers and served with distinction for almost ten years.  Special Operations gave Van a moral focus he was lacking, and honed his belief in honor and in justice, but it ironically also gave him the discipline and toughness to be a much more effective criminal than Dono could ever be.  If he chooses that path.  Back home now, Van occupies two worlds, and he's not entirely at ease in either.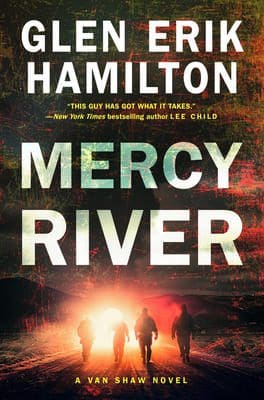 Tell us about Mercy River, without spoilers.
When Van's closest friend from the Rangers is arrested for murder, Van rushes to the remote Central Oregon town of Mercy River to help, only to learn that the town is playing host to hundreds of fellow veterans of the 75th Ranger Regiment. They have gathered for a raucous annual party and charity drive called the Rally, run by a decorated Special Ops general. Both the town and the Rally have some major secrets, and as is his way, Van quickly finds himself on the bad side of dangerous people. Worse, his friend Leo is actively resisting any attempt to prove his innocence.
Where do you go for atmosphere when you return to Seattle?
I return as often as I can, both because I love the place and because the city changes so rapidly. Which was one of the reasons I wanted to write about it. I try to explore "new" neighborhoods with every visit. I inevitably pass through downtown and Van's home turf on Capitol Hill, of course. But I also find myself returning to regular haunts like the shipyards on Harbor Island, Pioneer Square, the industrial areas south of the stadiums, and parks like Volunteer and Magnuson. And if I can catch a ferry over to Bainbridge on a clear day, that's always a good trip.
Can you give us some hints about your next book?
Van's mother Moira died when he was only six years old, so his memories of her are very limited. His grandfather closed himself off from the pain of losing Moira, and subsequently never shared much about her with Van as he grew up. Neither of them ever learned who Van's father was. It's high time that Van discovers more about his family, perhaps more than he'd truly like to know.
Everyone's journey to publishing is different. Tell us about your journey to publication of the first Van Shaw novel, Past Crimes.
I began writing when my wife and I moved to Southern California in the mid-2000s, just experimenting at first to see if I liked it. Writing classes and groups eventually followed. When my manuscript was just about done, I figured I needed some practice in selling it. I went to ThrillerFest in 2013 and attended their PitchFest "speed dating" afternoon with agents and editors. Events after that felt like a fairy tale: There was plenty of interest in the book, which turned to a couple of offers of representation and an excellent partnership with my current agent! My agent made a two-book deal with William Morrow two months after, and Past Crimes was released in Spring 2015. I remind myself with great frequency to be grateful; it certainly doesn't happen that way for everyone.
What has been the highlight of your writing career so far?
That's a tough question, because every time a writer passes a big milestone or receives any acclaim in a hard business, it's worth celebrating. In fact it's critical to celebrate. Applauding our own serious effort keeps us sailing through the storms. But if I had to pick one highlight, it would have to be when the first book sold. That's tremendously validating, to have an agent willing to fight hard for your career and then have a publisher invest both financially and creatively in your work. That's often the first time that someone outside your friends and family says "Yes, we believe in you." A huge moment.
If you had to recommend 5 books for a person to read so they could get a feel for you and your reading taste, what 5 would you pick?
I'm going to list three books that were cornerstones of my early reading, and two much more recent novels which are so good, I'm re-reading them both for the pleasure of it and to study the craft involved:
The Deep Blue Good-By "" John D. MacDonald "" or any of the Travis McGee series, with JDMacD's knight errant working on the outskirts of the "civilized" world. Growing up aboard boats, these were almost required reading.
Gorky Park "" Martin Cruz Smith "" the honorable investigator in a corrupt system, and a hell of a love story in the bargain.
Ripley Under Ground "" Patricia Highsmith "" my favorite of the Ripley's novels, with the amoral and extremely dangerous Ripley at his slippery best.
November Road "" Lou Berney "" one of 2018's most lauded novels, and deservedly so. Both emotionally resonant and a page-turning thriller, which is a very tough balance to achieve, much less this brilliantly.
Sunburn "" Laura Lippman "" another of last year's very best, a subtly woven tale of desperation with characters who reveal new depths in every chapter.
What book or author is underrated, in your opinion?
A novelist named Marc Olden, who was very prolific and bridged the gap between 1970s-80s pulp and more highbrow thrillers extremely well. He was nominated for the Best Paperback Original Edgar in 1978. Many of his series "" such as Black Samurai "" explored being African-American and drawn to other cultures because America's was so fraught. Perhaps most significantly, Olden wrote beautifully about martial arts and why people pursue a life of practicing them. He was himself an accomplished karate and aikido instructor, and his books were influential in starting me on a similar path, as I read his novel Giri when I was about thirteen. He died in 2003, and it's one of my regrets that I never wrote to him to let him know how much I'd enjoyed his work.
A warning. I see you're appearing at the Poisoned Pen with Brad Parks. Brad either sings or jokes his way through everything. The last time he was at the Pen, he griped ahead of time about appearing with Christopher Rice. Rice was "too young, too attractive". Any plans you can tell us about taking over the stage from Parks?
I trust Brad's not making the same gripes about me.  The thing with Parks is: you can't let that karaoke train get rolling, so I'll take a page from Van Shaw's book and wire Brad's microphone to shock him every time he starts to sing.  Join us and watch the fun…
*****
You can order Glen Erik Hamilton's books through the Web Store, including a signed copy of Mercy River. https://bit.ly/2Tt8Afd