In 2016, Sulari Gentill was "In the Hot Seat" on this blog. To this day, she gave one of my favorite answers to an interview question, where would you take visitors who came to Australia. You can find that interview here. https://bit.ly/2TvZrBI
Gentill has gone on to receive the recognition she deserves for her writing. Last year, she won the Ned Kelly Award for Best Crime Novel for Crossing the Lines. Now, her sixth Rowland Sinclair novel, A Murder Unmentioned, is available. You can order it, and her other novels, through the Web Store. https://bit.ly/2DdMLE1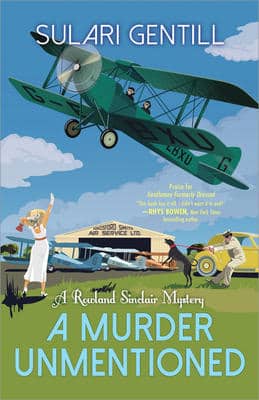 Here's the summary of A Murder Unmentioned.
The gun used in Rowland Sinclair's father's death some thirteen years earlier has turned up in a drained dam at the family's country homestead in Yass. And when Rowland offends right-wing New Guard leader Eric Campbell, Campbell uses his influence to set the police to renew their inquiries into Henry Sinclair's death.
Henry's friends had all been led to believe that the wealthy landowner had died in a much more respectable way. Rowland and his elder brother, Wil, had avoided any discussion of the event ever since—in fact the whole family had ducked the issue for over a decade, keeping secret that Sinclair senior was murdered. The possible involvement of the teenage Rowly and his older brother's intervention has been under the radar as well.
But now the finger of blame is pointing squarely at the Sinclair black sheep, a man careless of what society and the authorities think of him. So he and the trio of artist friends who live in his Sydney suburban mansion, and generally have his back, avail themselves of a racing green Gypsy Moth (Rowland is a pioneer in air travel) and a yellow Mercedes sports car (another frightening mode of transport) to arrive in New South Wales' Southern Tablelands, bent on clearing Rowly's name.
With cameo appearances from historical figures—Bob Menzies in the Sinclair kitchen, Edna Walling in the garden, and Kate Leigh grinning lasciviously at Rowly in a jailhouse crowd—and a real sense of fun contrasting with the quite genuine tension, this is historical crime for those in the know and those who can barely remember what happened last weekend, a story of family secrets and fraternal loyalty. Despite the humor, the Rowland Sinclair Mysteries take a deadly serious look at the 1930s, reflecting our own tumultuous times.
*****
Why bring up Sulari Gentill's A Murder Unmentioned now? Jessica Howard just reviewed the book for Shelf Awareness for Readers, if you'd like to read the review. https://bit.ly/2TaI3TR