Do you subscribe to the newsletter put out by Douglas Preston and Lincoln Child? You really should. The current one has news of a forthcoming short story they will send to newsletter subscribers. Here's where you can subscribe to the Pendergast File newsletter. https://bit.ly/2GquN6R
There are a couple other pieces of news you might want to know about.
–If you're looking for an early Father's Day present, or a unique birthday present, there are still a few hundred double-autographed, first-edition copies of VERSES FOR THE DEAD available from the Poisoned Pen Bookstore. You can get one here.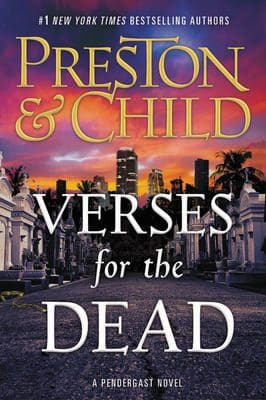 Here's the other news. The book jacket isn't available to see yet, but here's the information about a new series and forthcoming book.
–Finally, we are pleased to announce the launching of a new series of novels, starring our recurring characters Nora Kelly and Corrie Swanson! The first book in the series, entitled OLD BONES, will be published August 27. Nora is directing the archaeological excavation of an old Donner Party encampment in the Sierras of California—a site where horrific cannibalism occurred. At the same time, rookie FBI Agent Corrie Swanson is looking into a bizarre grave-robbing and murder in New Mexico. The two women soon cross paths—and their solo investigations quickly morph into one terrifying ordeal. (Those of you who aren't familiar with the tragic and gruesome story of the Donner Party can read about it here.)