Who would be the best character to be an invisible hero in a thriller? Andrew Grant had a wonderful idea for his latest book, Invisible. He recently discussed that book and overlooked people with Barbara Peters, owner of The Poisoned Pen. You can buy copies of Grant's books from the Web Store, including a signed copy of Invisible. https://bit.ly/2N8UglA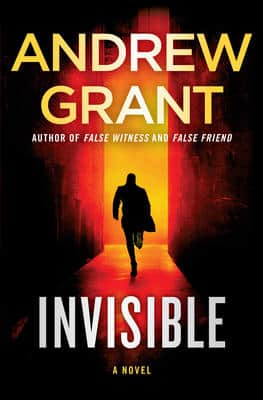 Here's the summary of Invisible.
An Army veteran and intelligence agent goes undercover as a janitor at a federal courthouse to pursue his own brand of justice in a thriller that's part John Grisham, part Robert Crais.

"Propulsive and engaging from the very first page."—C. J. Box, #1 New York Times bestselling author of the Joe Pickett series

As a young man, Paul McGrath rebelled against his pacifist father by becoming a standout Army recruit and the star of his military intelligence unit. But lingering regrets about their relationship make him return home, only to find his father dead, seemingly murdered. When the case ends in a mistrial—after a key piece of evidence disappears—something doesn't smell right to McGrath. So he puts his arsenal of skills to work to find out just how corrupt the legal system is. And to keep digging, he gets a job at the courthouse. But not as a lawyer or a clerk. . . .
Now McGrath is a janitor. The perfect cover, it gives him security clearance and access to the entire building. No one notices him, but he notices everyone. He notices when witnesses suddenly change their stories. When jury members reverse their votes during deliberation. When armies of corporate attorneys grind down their small-time adversaries with endless tactical shenanigans. While McGrath knows that nothing he discovers can undo his past wrongs or save his father, he finds his new calling brings him something else: the chance to right current wrongs and save others. And by doing so—just maybe—to redeem himself . . . if the powerful and corrupt don't kill him first.

Praise for Invisible
"The masterful Andrew Grant outdoes himself with this deliciously twisty, magnetic thriller. Fiercely redemptive, with its clever, profoundly moving, and altogether captivating David and Goliath hook, Invisible is a winner."—Sara Blaedel, #1 internationally bestselling author of The Forgotten Girls
"[A] superior thriller . . . Grant capably combines a riveting plot and depth of character. His best outing to date, this standalone marks Grant as a rising genre star."—Publishers Weekly (starred review)
"Another solid and entertaining thriller."—Kirkus Reviews
"Paul McGrath is not just a janitor—he's a terrific new hero in what promises to be a fantastic and original series by Grant. Paul may be invisible . . . but his results are not in this intense mystery thriller that will leave you wanting more. In a word? Awesome."—Allison Brennan, New York Times bestselling author of Too Far Gone'
*****
Don't you want to listen to Andrew Grant discuss his character and the book? You can watch the event here.