Craig Johnson is currently on tour for his latest Longmire book, Depth of Winter. In fact, he's supposed to be in North Carolina tomorrow, but Hurricane Florence changed his plans. However, his event for Poisoned Pen was filmed for YouTube, and you can watch it, whether you missed him in Phoenix, or you're going to miss him in North Carolina. You can also order a signed copy of Depth of Winter through the Web Store. https://bit.ly/2Qmogf5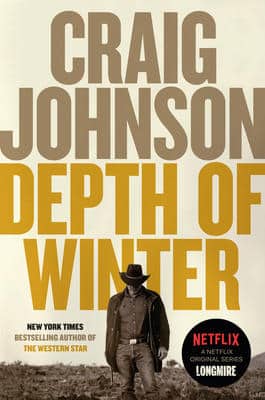 Before you watch the video, here's a short summary of Depth of Winter.
The new novel in Craig Johnson's beloved New York Times bestselling Longmire series.
Welcome to Walt Longmire's worst nightmare. In Craig Johnson's latest mystery, Depth of Winter, an international hit man and the head of one of the most vicious drug cartels in Mexico has kidnapped Walt's beloved daughter, Cady, to auction her off to his worst enemies, of which there are many. The American government is of limited help and the Mexican one even less. Walt heads into the one-hundred-and-ten degree heat of the Northern Mexican desert alone, one man against an army.
*****
Now, check out Poisoned Pen bookstore owner Barbara Peters' interview with Craig Johnson.
[youtube https://www.youtube.com/watch?v=NR3L8f5AuRw&w=560&h=315]