Have you heard all the talk about Christina Dalcher's debut novel, Vox? It's available through the Web Store. https://bit.ly/2Nl41g8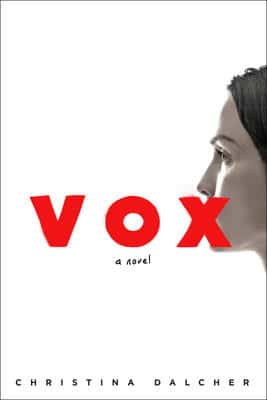 Here's the summary of Vox.
"[An] electrifying debut."–O, Oprah Magazine
"The real-life parallels will make you shiver."–Cosmopolitan
One of Entertainment Weekly's and SheReads' books to read after The Handmaid's Tale
One of Good Morning America's "Best Books to Bring to the Beach This Summer"
One of PopSugar, Refinery29, Entertainment Weekly, Bustle, Real Simple, i09, and Amazon's best books to read in August 2018
Set in a United States in which half the population has been silenced, Vox is the harrowing, unforgettable story of what one woman will do to protect herself and her daughter.
On the day the government decrees that women are no longer allowed more than one hundred words per day, Dr. Jean McClellan is in denial. This can't happen here. Not in America. Not to her.
This is just the beginning…
Soon women are not permitted to hold jobs. Girls are not taught to read or write. Females no longer have a voice. Before, the average person spoke sixteen thousand words each day, but now women have only one hundred to make themselves heard.
…not the end.
For herself, her daughter, and every woman silenced, Jean will reclaim her voice.
*****
You actually have two opportunities to hear Christina Dalcher's voice, thanks to Penguin Random House. She's talking in one video about what she's reading. In the other, she presents this week's Seven Sentence Story called "The Burden of Proof".
[youtube https://www.youtube.com/watch?v=CikEZIGNRHs&w=560&h=315]
[youtube https://www.youtube.com/watch?v=l44dbZ68o3c&w=560&h=315]