Are you familiar with the Miss Fisher mysteries written by Kerry Greenwood? The books, set in Australia in the 1920s, are published by Poisoned Pen Press. You can order them through the Web Store. https://bit.ly/2JfL7W5 Of course, the books have also been made into an Australian television series. Here's just a little information about the first book in the series, Cocaine Blues.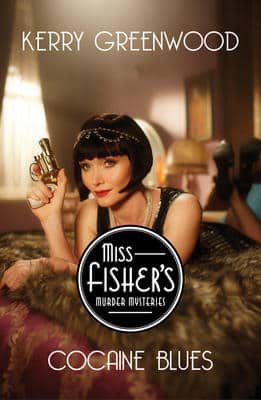 This is where it all started! The first classic Phryne Fisher mystery, featuring our delectable heroine, cocaine, communism and adventure. Phryne leaves the tedium of English high society for Melbourne, Australia, and never looks back. The London season is in full fling at the end of the 1920s, but the Honorable Phryne Fisher—she of the green-gray eyes, diamant garters and outfits that should not be sprung suddenly on those of nervous dispositions—is rapidly tiring of the tedium of arranging flowers, making polite conversations with retired colonels, and dancing with weak-chinned men. Instead, Phryne decides it might be rather amusing to try her hand at being a lady detective in Melbourne, Australia. Almost immediately from the time she books into the Windsor Hotel, Phryne is embroiled in mystery: poisoned wives, cocaine smuggling rings, corrupt cops and communism—not to mention erotic encounters with the beautiful Russian dancer, Sasha de Lisse—until her adventure reaches its steamy end in the Turkish baths of Little Lonsdale Street.
*****
Now, we have news of a spin-off. According to TV Tonight,
"Seven has announced a spin-off of Miss Fisher's Murder Mysteries to centre around the niece of Phryne Fisher (Essie Davis).
Ms. Fisher's MODern Murder Mysteries will be 4 telemovies set in Melbourne in the 1960s with "˜Peregrine Fisher' in the title role, created by Every Cloud Productions' Deb Cox and Fiona Eagger.
Set in 1964, audiences will meet the gorgeously reckless Peregrine Fisher who inherits a windfall when the famous aunt she never knew goes missing over the highlands of New Guinea. Peregrine must prove herself brilliant enough to become a world class private detective in her own right."
Here's the link to TV Tonight's article. https://bit.ly/2AgGOcL