Although Paul French's book, Midnight in Peking, is in the Web Store, it's his latest nonfiction title, City of Devils: The Two Men Who Ruled the Underworld of Old Shanghai, that is the Hot Book of the Week at the Poisoned Pen. Signed copies are available through the Web Store. https://bit.ly/2KJKfxn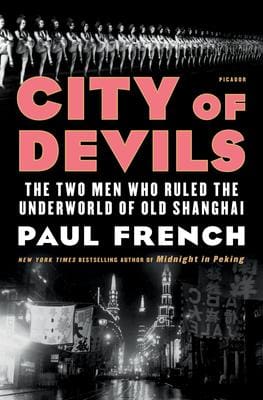 Here's the summary of City of Devils.
By the New York Times bestselling author of Midnight in Peking—winner of both the Edgar Award for Best Fact Crime and the CWA Gold Dagger for Non-Fiction—comes rags-to-riches tale of two self-made men set against a backdrop of crime and vice in the sprawling badlands of Shanghai.

Shanghai, 1930s; it was a haven for outlaws from all over the world: a place where pasts could beforgotten, fascism and communism outrun, names invented, and fortunes made—and lost.
"Lucky" Jack Riley was the most notorious of those outlaws. An ex""U.S. Navy boxing champion,he escaped from prison and rose to become the Slots King of Shanghai. "Dapper" Joe Farren—a Jewishboy who ed Vienna's ghetto—ruled the nightclubs. His chorus lines rivalled Ziegfeld's.
In 1940, Lucky Jack and Dapper Joe bestrode the Shanghai Badlands like kings, while all aroundthe Solitary Island was poverty, starvation, and war. They thought they ruled Shanghai, but the cityhad other ideas. This is the story of their rise to power, their downfall, and the trail of destruction leftin their wake. Shanghai was their playground for a flickering few years, a city where for a fleeting momenteven the wildest dreams could come true.