Betty Webb's May release from Poisoned Pen Press, The Otter of Death, has one of the cutest covers I've seen lately. Signed copies are available through the Web Store. https://bit.ly/2xhvGLf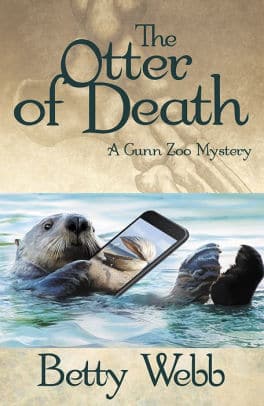 Here's the summary of the book.
While taking the yearly "otter count" at a marsh near Gunn Landing Harbor, California, zookeeper Theodora Bentley sees Maureen, her favorite otter, swimming around clutching someone's expensive smartphone. When Teddy rescues the device, she discovers a photograph of a murder-in-progress. A hasty search soon turns up the still-warm body of Stuart Booth, PhD, a local Marine Biology instructor.
Booth was a notorious sexual harasser of young female students, so the list of suspects is long enough to make Teddy wonder if the crime will ever be solved. But when her friend, Lila, one of Booth's original accusers, is arrested and charged with his murder, Teddy begins to investigate. This creates considerable tension with Teddy's fiancé, Sheriff Joe Rejas. He believes the ever-inquisitive zookeeper might be putting her own life at risk, and so orders her to butt out.
Concerned for her accused friend, Teddy ignores Joe's ultimatum. She questions not only members of Gunn Landing's moneyed social elite, but also the other side of the financial spectrum – the financially strapped young women willing to do almost anything to pay for their college tuition. Alarmed by Teddy's meddling, Booth's killer fights back – first with a death threat, then via gunshot.
In this fifth Gunn Zoo Mystery, Teddy is torn between living a peaceful life on her Monterey Bay houseboat with her three-legged dog DJ Bonz, or moving inland to marry Joe, who comes with kids and a mother who has her own mysterious agenda. The choice is scary for Teddy – who has barely been managing her own many-times-married mother, and her imperious employer, Aster Edwina Gunn, overlord of the famed Gunn Zoo. Teddy's life is further complicated by a wayward snow monkey named Kabuki, taunter of teenage boys. The zookeeper's dedication to her charges – including the anteater, the koala, the llama, and Magnus, the polar bear cub from Iceland (met in Teddy's last adventure, The Puffin of Death), never falters in a cleverly plotted series rich in characters and in animal lore.
*****
I had hoped to interview Betty for the blog. But, she took off for Paris. Then, Elise Cooper from Crimespree Magazine beat me to it. So, you can check out Cooper's interview with Webb here. https://crimespreemag.com/interview-with-betty-webb/