August Thomas' debut thriller, Liar's Candle, is the Hot Book of the Week at the Poisoned Pen. Signed copies are available through the Web Store. https://bit.ly/2HFJSye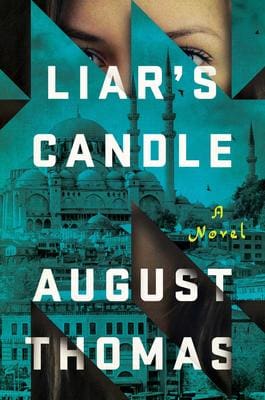 Here's the summary of Liar's Candle.
n this brilliant debut thriller, reminiscent of the works of John le Carre and Olen Steinhauer and infused with the authenticity of the author's travels, a young American State Department intern based in Turkey becomes "the woman who knows too much" and is marked for death.
Penny Kessler, an intern at the US Embassy in Ankara, Turkey, wakes up in a hospital on the morning of July 5th to find herself at the center of an international crisis. The day before, the Embassy was the target of a devastating terrorist attack that killed hundreds of Penny's friends and colleagues. Not only has a photograph of Penny as she emerged from the rubble become the event's defining image, but for reasons she doesn't understand, her bosses believe she's a crucial witness.
Suddenly, everyone is intensely interested in what Penny knows. But what does she know? And whom can she trust? As she struggles to piece together her memories, she discovers that Zach Robson, the young diplomat she'd been falling for all summer, went missing during the attack. And one of the CIA's most powerful officials, Christina Ekdahl, wants people to believe Zach was a traitor.
What actually happened?
Penny barely has time to ask before she discovers that her own government wants her dead. Soon, with only a single ally—a rookie intelligence officer fresh out of the Navy—she is running a perilous gauntlet, ruthlessly pursued by Turkey's most powerful forces and by the CIA.
To survive, Penny must furiously improvise. Tradecraft takes a lifetime to master. She has less than thirty-six hours. And she's only twenty-one years old. This is her first real test—one she can't fail.