Ada Palmer is the winner of the 2017 John W. Campbell Award for Best New Writer. Now, she'll be at the Poisoned Pen on Friday, April 20 at 7 PM to talk about her book, Too Like the Lightning. Palmer's books are available through the Web Store. https://bit.ly/2J77D2K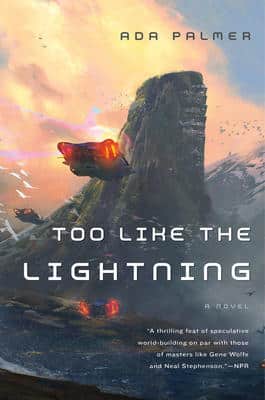 Here's the description of Too Like the Lightning.
From the winner of the 2017 John W. Campbell Award for Best New Writer, Ada Palmer's 2017 Compton Crook Award-winning political science fiction,Too Like the Lightning, ventures into a human future of extraordinary originality
Mycroft Canner is a convict. For his crimes he is required, as is the custom of the 25th century, to wander the world being as useful as he can to all he meets. Carlyle Foster is a sensayer–a spiritual counselor in a world that has outlawed the public practice of religion, but which also knows that the inner lives of humans cannot be wished away.
The world into which Mycroft and Carlyle have been born is as strange to our 21st-century eyes as ours would be to a native of the 1500s. It is a hard-won utopia built on technologically-generated abundance, and also on complex and mandatory systems of labelling all public writing and speech. What seem to us normal gender distinctions are now distinctly taboo in most social situations. And most of the world's population is affiliated with globe-girdling clans of the like-minded, whoseendless economic and cultural competion is carefully managed by central planners of inestimable subtlety. To us it seems like a mad combination of heaven and hell. To them, it seems like normal life.
And in this world, Mycroft and Carlyle have stumbled on the wild card that may destablize the system: the boy Bridger, who can effortlessly make his wishes come true. Who can, it would seem, bring inanimate objects to life…
Terra Ignota
1.Too Like the Lightning
2.Seven Surrenders
3.The Will to Battle
*****
In a recent article in The Phoenix New Times, Michael Senft said, "Ada Palmer is a true polymath. In addition to her day job as a history professor, the Harvard-educated Palmer performs with the filk group Sassafrass at cons and Ren fairs across the country. She's also an award-winning science-fiction novelist.
"That's the hat Palmer will be wearing when she visits the Poisoned Pen on Friday, April 20. Palmer will discuss her "Terra Ignota" series, set in a 25th-Century Earth ruled according to Enlightenment philosophy. Alas, all is not for the best in that best of all possible worlds, as a criminal and a spiritualist attempt to hide the existence of God in a society where religion is outlawed."