James Patterson loves bookstores. So he will appear at The Poisoned Pen on Saturday March 10 at 6:00 PM. There will be a chat,  and then there will be a book signing. To make this fun and comfortable, attendance is limited to 125.
To do that please register by buying one of the 125 vouchers for $25. Call us at 480 947 2974 or 888 560 9919 or  sales@poisonedpen.com
 You will be able to spend the $25 voucher, given to you when you arrive at the store, on any Patterson book in stock. The signing is limited to books bought at the event; please do not bring any personal books with you.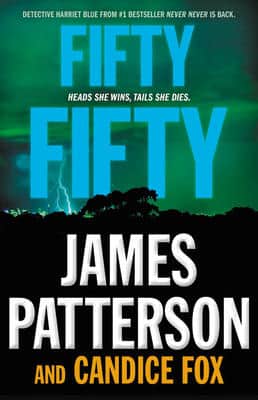 This will include the Harriet Blue thriller Fifty Fifty (Little Brown $28). By happy chance his coauthor Candice Fox joins us on March 9, so all our copies will be signed by both authors. And we'll give you a special price at the event only of $25.
 You can also spend the $25 by ordering a Signed copy of Red Alert: NYPD #5 now for delivery on publication date, March 26. If you can't attend you can order either book in the usual way, through the Web Store. https://store.poisonedpen.com