It's been twenty years since Kent Anderson's last novel. Now, he's at the Poisoned Pen on Sunday, March 4 at 2 PM with his third crime novel, Green Sun. Signed copies are available through the Web Store. https://bit.ly/2CSJk4V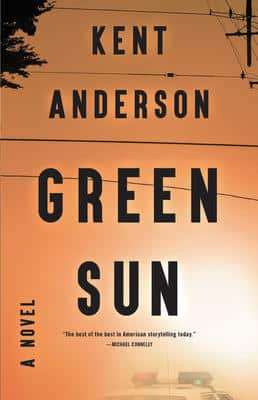 Michael Schaub just reviewed Green Sun for NPR (National Public Radio). Schaub says, "Green Sun succeeds on so many levels, it's hard to keep count." You can read his entire review here. https://n.pr/2FJluf7. He says it's worth waiting for two decades for this book.
What have you been waiting for? Here's the summary.
TOP 10 MYSTERIES & THRILLERS FOR SPRING —PUBLISHERS WEEKLY
"One of the unsung heroes of crime fiction" (Chicago Tribune), Kent Anderson returns after two decades with this dazzling novel about justice, character and fate, set against the backdrop of an American city at war with itself.
Oakland, California, 1983: a city churning with violent crime and racial conflict. Officer Hanson, a Vietnam veteran, has abandoned academia for the life-and-death clarity of police work, a way to live with the demons that followed him home from the war.
But Hanson knows that justice requires more than simply enforcing the penal code. He believes in becoming a part of the community he serves–which is why, unlike most officers, he chooses to live in the same town where he works. This strategy serves him well…to a point. He forges a precarious friendship with Felix Maxwell, the drug king of East Oakland, based on their shared sense of fairness and honor. He falls in love with Libya the moment he sees her, a confident and outspoken black woman. He is befriended by Weegee, a streetwise eleven-year-old who is primed to become a dope dealer.
Every day, every shift, tests a cop's boundaries between the man he wants to be and the officer of the law he's required to be. At last an off-duty shooting forces Hanson to finally face who he is, and which side of the law he belongs on.