Join Joanne Fluke at The Poisoned Pen on Tuesday, Feb. 27 at 7 PM to celebrate the release of her 22nd Hannah Swenson mystery, Raspberry Danish Murder. You can pre-order signed copies at the Web Store. https://bit.ly/2o5JYqA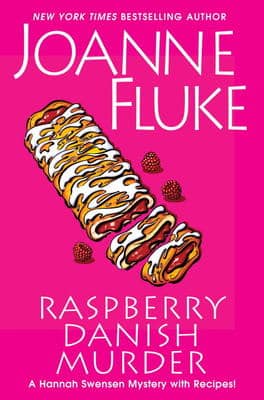 In Fluke's books, baking goes hand-in-hand with the mysteries. She has a new series of videos out to go with this book.
[youtube https://www.youtube.com/watch?v=k0O6aKcXmIs&w=560&h=315]
And, here's the link on Joanne Fluke's website if the video doesn't take you to the next in the series. https://bit.ly/2GdNc2L
*****
Here's the summary of Raspberry Danish Murder.
Thanksgiving has a way of thawing the frostiest hearts in Lake Eden. But that won't be happening for newlywed Hannah Swensen Barton—not after her husband suddenly disappears . . .
Hannah has felt as bitter as November in Minnesota since Ross vanished without a trace and left their marriage in limbo. Still, she throws herself into a baking frenzy for the sake of pumpkin pie and Thanksgiving-themed treats while endless holiday orders pour into The Cookie Jar. Hannah even introduces a raspberry Danish pastry to the menu, and P.K., her husband's assistant at KCOW-TV, will be one of the first to sample it. But instead of taking a bite, P.K., who is driving Ross's car and using his desk at work, is murdered. Was someone plotting against P.K. all along or did Ross dodge a deadly dose of sweet revenge? Hannah will have to quickly sift through a cornucopia of clues and suspects to stop a killer from bringing another murder to the table . . .