Award-winning author Brad Parks will be at The Poisoned Pen on Wednesday, March 7 at 7 PM, on book tour for his latest thriller, Closer Than You Know. Release date is March 6. You can pre-order a signed copy through the Web Store. https://bit.ly/2GcYCUm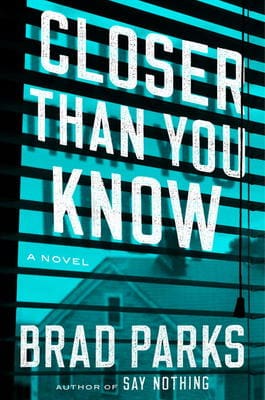 Here's the summary.
Brad Parks delivers another riveting, emotionally powerful stand-alone domestic suspense thriller perfect for fans of The Couple Next Door and What She Knew.
Disaster, Melanie Barrick was once told, is always closer than you know.
It was a lesson she learned the hard way growing up in the constant upheaval of foster care. But now that she's survived into adulthood–with a loving husband, a steady job, and a beautiful baby boy named Alex–she thought that turmoil was behind her.
Until one Tuesday evening when she goes to pick up Alex from childcare only to discover he's been removed by Social Services. And no one will say why. It's a terrifying scenario for any parent, but doubly so for Melanie, who knows the unintended horrors of what everyone coldly calls "the system."
Her nightmare mushrooms when she arrives home to learn her house has been raided by sheriff's deputies, who have found enough cocaine to send Melanie to prison for years. The evidence against her is overwhelming, and if Melanie can't prove her innocence, she'll lose Alex forever.
Meanwhile, assistant commonwealth's attorney Amy Kaye–who has been assigned Melanie's case–has her own troubles. She's been dogged by a cold case no one wants her to pursue: a serial rapist who has avoided detection by wearing a mask and whispering his commands. Over the years, he has victimized dozens of women.
Including Melanie. Yet now her attacker might be the key to her salvation . . . or her undoing.
*****
What's better than a summary? Hearing the author present a teaser. Here's Brad Parks reading the first chapter of Closer Than You Know.
https://www.facebook.com/BradParksBooks/videos/10156052771435629/
You might want to mark your calendar now for March 7. It's "closer than you know".