Matt Haig, author of How to Stop Time, just appeared at The Poisoned Pen for the first time. You might want to pick up a copy now because it has already been optioned for a movie with Benedict Cumberbatch supposed to star and be the executive producer. Signed copies are available through the Web Store. https://bit.ly/2nZA76a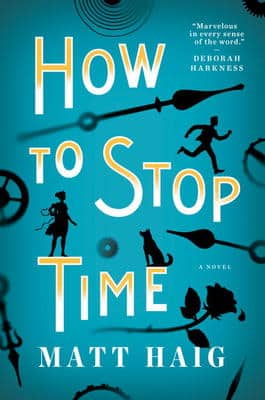 You can watch Barbara Peters, owner of The Poisoned Pen, interview Haig on Facebook. It's a fascinating interview.
https://www.facebook.com/238297496213972/videos/1705899049453802/
Here's the summary of How to Stop Time.
"The first rule is that you don't fall in love,' he said… "˜There are other rules too, but that is the main one. No falling in love. No staying in love. No daydreaming of love. If you stick to this you will just about be okay.'"
"A quirky romcom dusted with philosophical observations….A delightfully witty…poignant novel." —The Washington Post

"Haig's novel offers a wry, intriguing meditation on time and an eternal human challenge: how to relinquish the past and live fully in the present." —People

Named one of the most anticipated books of 2018 by Entertainment Weekly, Esquire, HelloGiggles, and Bustle.
Tom Hazard has a dangerous secret. He may look like an ordinary 41-year-old, but owing to a rare condition, he's been alive for centuries. Tom has lived history–performing with Shakespeare, exploring the high seas with Captain Cook, and sharing cocktails with Fitzgerald. Now, he just wants an ordinary life.
So Tom moves back his to London, his old home, to become a high school history teacher–the perfect job for someone who has witnessed the city's history first hand. Better yet, a captivating French teacher at his school seems fascinated by him. But the Albatross Society, the secretive group which protects people like Tom, has one rule: Never fall in love. As painful memories of his past and the erratic behavior of the Society's watchful leader threaten to derail his new life and romance, the one thing he can't have just happens to be the one thing that might save him. Tom will have to decide once and for all whether to remain stuck in the past, or finally begin living in the present.
How to Stop Time tells a love story across the ages – and for the ages – about a man lost in time, the woman who could save him, and the lifetimes it can take to learn how to live. It is a bighearted, wildly original novel about losing and finding yourself, the inevitability of change, and how with enough time to learn, we just might find happiness.
*****
Matt Haig is the author of number of fiction and nonfiction book for children and adults. You can learn more about him on his website, www.matthaig.com.
In fact, one of his children's books, written for his son, is A Boy Called Christmas. The American Library Association just named that book as an Odyssey Honor Audiobook. It was narrated by Stephen Fry.
*****
Just a couple photos taken during the book signing, Matt Haig with fans.