Karen Cleveland's Need to Know is the current Hot Book of the Week at the Poisoned Pen. You can order a signed copy through the Web Store. https://bit.ly/2EAQygx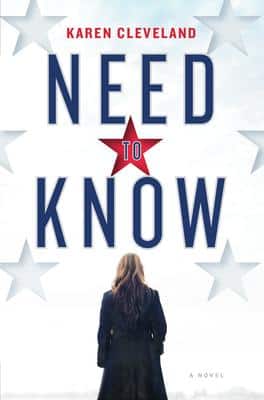 Here's the summary of this week's Hot Book.
Perfect husband. Perfect father. Perfect liar?
"Terrific."—John Grisham
"Superb."—Lee Child
"Breathtaking, heart-pounding."—Louise Penny
"A fast-paced, relentlessly gripping read."—Chris Pavone
In pursuit of a Russian sleeper cell on American soil, CIA analyst Vivian Miller uncovers a dangerous secret that will threaten her job, her family—and her life. On track for a much-needed promotion, she's developed a system for identifying Russian agents, seemingly normal people living in plain sight.
After accessing the computer of a potential Russian operative, Vivian stumbles on a secret dossier of deep-cover agents within America's borders. A few clicks later, everything that matters to her—her job, her husband, even her four children—is threatened."Ž
Vivian has vowed to defend her country against all enemies, foreign and domestic. But now she's facing impossible choices. Torn between loyalty and betrayal, allegiance and treason, love and suspicion, who can she trust?
Film rights sold to Universal Pictures for Charlize Theron "¢ Rights sold in more than 20 markets
"Shaping up to be one of the year's biggest new thrillers."—Entertainment Weekly
 
"So timely . . . Think of the perfect mix of Homeland and The Americans. . . . Need to Know needs to be read by all who relish spy novels. As entertaining as it is informative and as irresistible as it is impossible to put down."—Providence Journal
 
"Pulse-pounding."—O: The Oprah Magazine
 
"Accomplished . . . a nonstop thriller tapping into a hot mix of contemporary digital counterintelligence, old-school spying and ageless family drama."—Shelf Awareness
"An early contender for next year's Gone Girl."—GQ (UK)
"The Russia page-turner that should be on everyone's list."—New York Post