It's always fun to introduce a debut author to readers. Tom Hunt just appeared at the Poisoned Pen, and author Stephen Coonts had the opportunity to introduce him to his first audience. His debut thriller is Killer Choice. You can be one of the first to discover his writing, and order a signed copy through the Web Store. https://bit.ly/2FxOaWS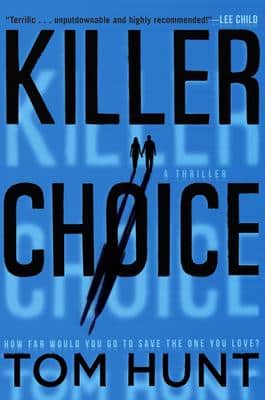 Here's the summary of the book.
"Terrific…full of shocks and twists you won't see coming—unputdownable and highly recommended!"—Lee Child, #1 New York Times bestselling author
The electrifying debut thriller that asks the question: To save the one you love, is there any price you wouldn't pay?
 
His wife is sick.
He needs $200,000 to save her.
A mysterious man offers to give him the money with just one catch: He has to murder someone to get it.
 
Gary Foster's life is finally heading in the right direction. After years of trying, his wife, Beth, is pregnant, and he recently opened a business with his brother. But one phone call changes everything….
After collapsing suddenly, Beth has been rushed to the hospital. Tests reveal a devastating diagnosis: an inoperable brain tumor. Their only hope is an expensive experimental treatment available abroad, with a cost that's out of their reach. And Beth's time is running out….
Then a strange man approaches Gary and offers the money he needs, on one condition: that he kill someone, no questions asked. End one life to save another.
In this nail-biting debut novel of domestic suspense, one man makes a choice that forces him to confront the darkest reaches of his soul and betray those closest to him. As he's swept up in a nightmare of escalating violence, he must question his own morality—and determine just how far he's willing to go to save the woman he loves.
*****
And, you can "meet" Tom Hunt here, in his Livestream interview with Stephen Coonts.  https://livestream.com/poisonedpen/events/8036637