Have you read Jeffrey Siger's latest Chief Inspector Andreas Kaldis novel yet? An Aegean April is a powerful police procedural that discusses the refugee crisis in Greece. If you haven't yet read it, you can pick up a signed copy through the Web Store. https://bit.ly/2mDS5L5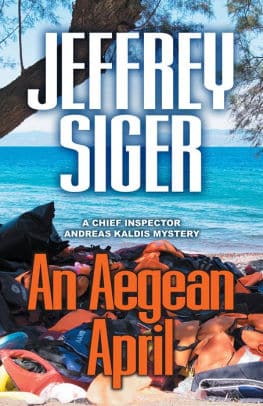 Siger recently wrote a piece for Bookreporter.com called "Thoughts on Today's Refugee Crisis in Greece from Jeffrey Siger, Author of An Aegean April." You may want to read it. https://bit.ly/2DezFKe
Once you've read that, you may be even more interested in reading the latest book in the series. Here's the summary.
The beautiful Greek island of Lesvos, birthplace of the poet Sappho, and for centuries an agrarian paradise famed for anise-flavored ouzo and tasty sardines, sees its serenity turn into chaos as the world watches boatloads of refugees daily flee onto its shores from Turkey across the narrow Mytilini Strait.
Mihalis Volandes is one of Lesvos' elite, the patriarch of a storied shipping clan. He's weathered many changes in his long life, and when a government policy accelerates the surge of refugees onto his island, he rises to prominence in relief efforts he sees as growing increasingly ineffectual.
One evening, after working to stir up support for his breakthrough plan to strike at the heart of the lucrative refugee trafficking trade, he returns to his mansion in darkness – only to fall victim in his own garden to a swishing sword.
A refugee-turned-local-aid-worker is found at the scene, splattered with Volandes' blood, and swiftly arrested by island police. Case closed – or would be, if young Ali Sera were not working with SafePassage, an NGO (non-government organization), headed on Lesvos by American Dana McLaughlin. McLaughlin is having none of Ali's arrest. Within hours the phone rings in the Athens office of Chief Inspector Andreas Kaldis, and she's requesting that Kaldis take over the investigation.
Volandes was a prominent citizen and the crime particularly gruesome. Could it be terrorism or something else? But whether Ali is guilty or framed, Andreas can't ignore a powerful motive for the murder. Volandes' daring plan, if implemented, would soon shut down the cash-generating refugee-trafficking pipeline between Turkey and Lesvos.
And so, we're off on a nail-biting ride with Kaldis and his team through Byzantine island politics, deteriorating diplomatic relations, and a world on fire with intrigues and more brutal deaths.
This ninth Andreas Kaldis thriller once again links modern Greece to its ancient past, the powerful grip of myths upon its people, and cutting edge issues of societal change affecting our world at large.