Today is the perfect day to discuss Lauren Willig's latest historical novel, The English Wife. Tasha Alexander hosts Willis and Deanna Raybourn at the Poisoned Pen at 2 PM. If you can't be there, you can still order signed copies through the Web Store. https://bit.ly/2mz7SL0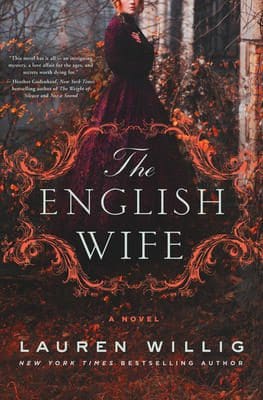 Here's the summary.
"Brings to life old world New York City and London with all the splendor of two of my favorite novels,The Age of InnocenceandThe Crimson Petal and the White. Mystery, murder, mistaken identity, romance–Lauren Willig weaves each strand into a page-turning tapestry." -Sally Koslow, author ofThe Widow Waltz"Her best yet…A dark and scintillating tale of betrayal, secrets and a marriage gone wrong that will have readers on the edge of their seats until the final breathtaking twist." -Pam Jenoff,New York Times bestselling author ofThe Orphan's TaleFromNew York Times bestselling author, Lauren Willig, comes this scandalous novel set in the Gilded Age, full of family secrets, affairs, and murder.Annabelle and Bayard Van Duyvil live a charmed life in New York: he's the scion of an old Knickerbocker family, she grew up in a Tudor house in England, they had a fairytale romance in London, they have three-year-old twins on whom they dote, and he's recreated her family home on the banks of the Hudson and named it Illyria. Yes, there are rumors that she's having an affair with the architect, but rumors are rumors and people will gossip. But then Bayard is found dead with a knife in his chest on the night of theirTwelfth Night Ball, Annabelle goes missing, presumed drowned, and the papers go mad. Bay's sister, Janie, forms an unlikely alliance with a reporter to try to uncover the truth, convinced that Bay would never have killed his wife, that it must be a third party, but the more she learns about her brother and his wife, the more everything she thought she knew about them starts to unravel. Who were her brother and his wife, really? And why did her brother die with the name George on his lips?
*****
If you would prefer the short visual summary, check out Adam Wagner's .GIFNotes at CriminalElement.com  His summaries are always funny. https://bit.ly/2r2hSBj.