C.J. Tudor's The Chalk Man is a psychological suspense debut now available through the Web Store. https://bit.ly/2mrJTwl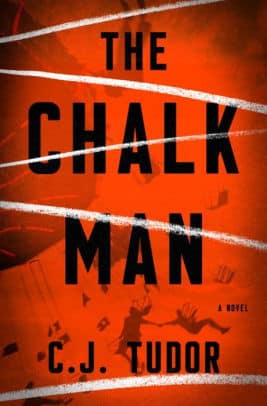 C.J. Tudor can introduce her book.
[youtube https://www.youtube.com/watch?v=pjtpOECs0bc?rel=0&w=560&h=315]
Here she is talking about the inspiration for The Chalk Man.
[youtube https://www.youtube.com/watch?v=P07dnm3t4e8?rel=0&w=560&h=315]
Interested? Here's the summary from the Web Store.
"I haven't had a sleepless night due to a book for a long time. The Chalk Man changed that."
—Fiona Barton, New York Times bestselling author of The Widow
A riveting and relentlessly compelling psychological suspense debut that weaves a mystery about a childhood game gone dangerously awry, and will keep readers guessing right up to the shocking ending
In 1986, Eddie and his friends are just kids on the verge of adolescence. They spend their days biking around their sleepy English village and looking for any taste of excitement they can get. The chalk men are their secret code: little chalk stick figures they leave for one another as messages only they can understand. But then a mysterious chalk man leads them right to a dismembered body, and nothing is ever the same.
In 2016, Eddie is fully grown, and thinks he's put his past behind him. But then he gets a letter in the mail, containing a single chalk stick figure. When it turns out that his friends got the same message, they think it could be a prank . . . until one of them turns up dead.
That's when Eddie realizes that saving himself means finally figuring out what really happened all those years ago.
Expertly alternating between flashbacks and the present day, The Chalk Manis the very best kind of suspense novel, one where every character is wonderfully fleshed out and compelling, where every mystery has a satisfying payoff, and where the twists will shock even the savviest reader.