Gayle Leeson is the author of Honey-Baked Homicide, a mystery currently available through the Web Store. https://bit.ly/2CuU8eo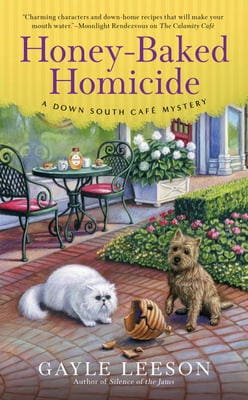 Here's the description of the book.
The owner of a delightful Southern café tastes the sharp sting of suspicion in this delectable comfort food mystery . . .
 
It's fall in Winter Garden, Virginia, and business at Amy Flowers' Down South Café has never been better. So when struggling beekeeper Stuart Landon asks Amy to sell some of his honey, she's happy to help. The jars of honey are a sweet success, but their partnership is cut short when Amy discovers Landon's body outside the café early one morning.
As Amy tries to figure out who could possibly have wanted to harm the unassuming beekeeper, she discovers an ever-expanding list of suspects—and they're all buzzing mad. She'll have to use all of her skills—and her Southern charm—to find her way out of this sticky situation…
*****
Leeson recently did a short YouTube video to discuss her research and early writing.
[youtube https://www.youtube.com/watch?v=AxK2pnHl6W8?rel=0&w=560&h=315]