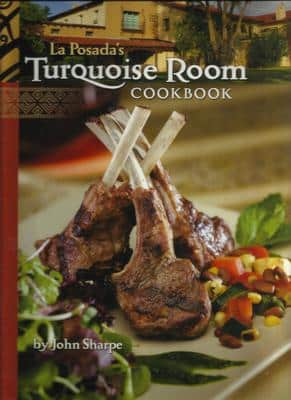 John Sharpe brings us a taste of the Southwest in the current Hot Book of the Week, La Posada's Turquoise Room Cookbook. You can order a signed copy through the Web Store. https://bit.ly/2CyojgS
Here's the summary of the book.
LA POSADA and THE TURQUOISE ROOM RESTAURANT embody the spirit of the early Southwest that was almost lost through decades of neglect. John Sharpe's revival of the dining experience at the hotel in 2000 demanded a daring vision. The success of that vision is apparent in the restaurant's atmosphere – one where tradition and innovation are fused to create a unique menu and decor. This cookbook, filled with full-color photographs and more than seventy recipes, allows one to walk the halls of this historic hotel and hear echoes of those who passed before, as well as it allows home cooks to recreate the fabulous meals from Chef John's masterpiece menu. Savor the innovative blending of flavors from a bygone era and the region. The spirit of La Posada and the Super Chief are still alive and celebrated in this book – always timeless. Including the history of the Fred Harvey Company, the hotel, the restaurant, and the train that made it all possible, this is more than a cookbook. It is a treasure that will offer cooking and reading pleasure for years to come.
*****
If you'd like a little more history of La Posada, check out the webpage. https://laposada.org/history/