As soon as I finish this post, I'm going to order a copy of Remarkable Books: The World's Most Beautiful and Historic Works for myself. It's this week's Hot Book of the Week, and if you like the sound of it, you can find it in the Web Store. https://bit.ly/2jDIIt4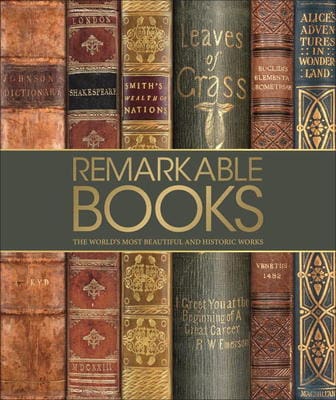 Here's the description.
A beautifully illustrated guide to more than 75 of the world's most celebrated, rare, and seminal books and handwritten manuscripts ever produced, with discussions of their purpose, features, and creators.
From ancient masterpieces such as The Art of War, written on the leaves of bamboo, to the stunningly illustrated Birds of America, to Chairman Mao's Little Red Book, Remarkable Books delves into the stories behind the most incredible tomes ever produced, offering an insight into their wider social and cultural context, and is chronologically ordered to demonstrate the synergies between the growth in human knowledge and the bookmaking process. Alongside breathtaking images of the books and manuscripts themselves, close-up views draw out interesting features, which are discussed in greater detail, while biographies tell the lives of the people who produced them.
This coffee table""worthy book is wrapped in a textured jacket with gold foil, making it a great gift for those with an interest in literature and art and design.
*****
Tempting, isn't it?