Did you miss Matt Goldman at The Poisoned Pen yesterday, on book tour for Gone To Dust? You can still order a signed copy through the Web Store. https://bit.ly/2wiJ1NJ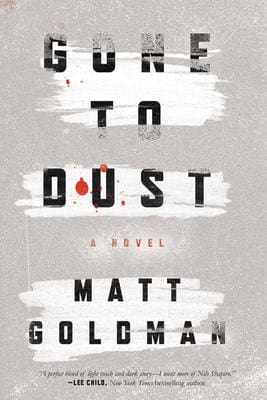 Here's the description of the book.
Set in Minnesota,Gone to Dust is the debut private eye murder mystery from Emmy Award-winning Seinfeld writer Matt Goldman.
"Sharp wit, complex characters, and masterful plotting makes Goldman a writer to watch. Irreverent and insightful, private detective Nils Shapiro is sure to become a fan favorite."—Harlan Coben,New York Timesbestselling author
A brutal crime. The ultimate cover-up. How do you solve a murder with no useable evidence?
Private detective Nils Shapiro is focused on forgetting his ex-wife and keeping warm during another Minneapolis winter when a former colleague, neighboring Edina Police Detective Anders Ellegaard, calls with the impossible.
Suburban divorcee Maggie Somerville was found murdered in her bedroom, her body covered with the dust from hundreds of emptied vacuum cleaner bags, all potential DNA evidence obscured by the calculating killer.
Digging into Maggie's cell phone records, Nils finds that the most frequently called number belongs to a mysterious young woman whose true identity could shatter the Somerville family–but could she be guilty of murder?
After the FBI demands that Nils drop the case, Nils and Ellegaard are forced to take their investigation underground, where the case grows as murky as the contents of the vacuum cleaner bags. Is this a strange case of domestic violence or something with far reaching, sinister implications?
"A perfect blend of light touch and dark story—I want more of Nils Shapiro." —Lee Child, New York Times bestselling author.
*****
You may have missed The Poisoned Pen event with Matt Goldman, but Shelf Awareness Pro interviewed Goldman on Aug. 25. We'd like to share it.
Reading with… Matt Goldman
photo: Peter Konerko
Matt Goldman is an Emmy Award-winning television writer/producer. He was nominated for a Writers Guild Award for his work on Seinfeld. His credits also include Ellen, Coach and The New Adventures of Old Christine. He is in production on Dirk Gently's Holistic Detective Agency. Goldman splits his time between Minneapolis and Los Angeles. He has two children and a giant poodle that does not have a poodle haircut because those are embarrassing for everyone. Gone to Dust (Forge, August 15, 2017) is his first novel.
On your nightstand now:
Lincoln in the Bardo by George Saunders. It's unusual and beautiful and hilarious. I'm a big Saunders fan. The Neon Rain by James Lee Burke. Good writing (vs. plot) matters to me, regardless of whether it's literary fiction or genre; good writing can make them the same. I just finished the book, my first of Burke's, and he's so good from word to word he makes plot a bonus. Little White Lies by Ace Atkins. In addition to his wholly original work, Ace writes Robert B. Parker's character Spenser. I've read Spenser novels, but never written by Ace. I love Ace's writing. The Husband's Secret by Liane Moriarty. I watched HBO's Big Little Lies, loved it, then heard the book was so much better. Really looking forward to this one.
Favorite book when you were a child:
The Merry Adventures of Robin Hood by Howard Pyle. I loved the adventure and humor and pushback against authority. Big wish fulfillment for a kid.
Your top five authors:
Gabriel García Márquez, Philip Roth, Raymond Chandler, Mark Twain and–sorry to sound like a jerk–Fyodor Dostoyevsky. The latter could convey volumes of insight in one sentence.
Book you've faked reading:
Infinite Jest by David Foster Wallace. And I don't know if faked is the right word–maybe failed. I sure carried it around for a long time. I will try again.
Book you're an evangelist for:
The Given Day by Dennis Lehane. Dennis is mostly known for his mysteries like Gone Baby Gone, for Shutter Island and Mystic River and for his television work on The Wire. The Given Day is about the Boston police strike in 1919 and a whole lot more. It's beautiful, human historical fiction and, I think, one of the greatest American novels ever written.
Book you've bought for the cover:
The Redbreast by Jo Nesbø. I'd never heard of the Norwegian crime writer. I loved the title and simplicity of the cover, so I picked it up, read the back cover and bought it. The book turned out to be book 3 in the Harry Hole series. I've since read every one.
Book you hid from your parents:
I hate to disappoint, but I don't believe I hid books from my parents. I hid other things. Sometimes inside books.
Book that changed your life:
Galápagos by Kurt Vonnegut. I'd already graduated from college. It was the first Vonnegut book I read, and it made me want to be a writer. I aspire to achieve his simple use of language.
Favorite line from a book:
In Raymond Chandler's The Long Goodbye, he describes a Beverly Hills office building and its tenants: "They had half the second floor of one of these candy-pink four-storied buildings where the elevator doors open all by themselves with an electric eye, where the corridors are cool and quiet, and the parking lot has a name on every stall, and the druggist off the front lobby has a sprained wrist from filling bottles of sleeping pills." Accurate description, social commentary, great joke.
Five books you'll never part with:
Crime and Punishment by Fyodor Dostoyevsky. One Hundred Years of Solitude by Gabriel García Márquez. The Given Day by Dennis Lehane. The High Window by Raymond Chandler. The Adventures of Kavalier and Clay by Michael Chabon.
Book you most want to read again for the first time:
The Essays of E.B. White. Most of all an essay entitled "The Death of a Pig." I love White's prose, humor, and mining of big truths in small details.