The Poisoned Pen has a few signed copies of Mark Sullivan's Beneath a Scarlet Sky available. With the current news about the book, you might want to call the bookstore at Toll Free: (888) 560-9919 to check on the status if you want to order a copy.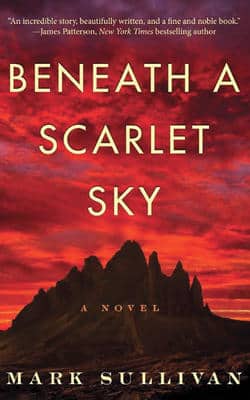 Film rights to Lake Union Publishing's Beneath a Scarlet Sky by Mark Sullivan have been acquired by Pascal Pictures, with Spider-Man: Homecoming star Tom Holland attached to play the lead.
An April Kindle First selection, published under the Lake Union Publishing imprint of Amazon Publishing on May 1, 2017, Beneath a Scarlet Sky is now a #1 Amazon Charts, Wall Street Journal, and USA Todaybestseller.
Based on the true story of a forgotten hero, Beneath A Scarlet Sky is the triumphant, epic tale of one young man's incredible courage and resilience during one of history's darkest hours.
It follows 17-year-old, real-life hero Pino Lella as he guides hunted Jews out of northern Italy over the rugged winter Alps into Switzerland. The saga continues when Pino is then recruited to become a spy for the Italian Resistance. Working undercover as a driver for a mysterious and powerful Nazi general, Pino gains access deep inside the German High Command but also witnesses the atrocities of the war firsthand.
When he first heard snippets of Pino Lella's story at a dinner party more than 11 years ago, Mark Sullivan was unable to shake the image of an Italian teenager leading refugees to safety across perilous mountain ridges, and he became determined to tell the tale of this anonymous, unsung hero. Sullivan spent weeks in Italy with Pino, listening to the 79-year-old recount in painstaking detail the most fraught and eventful years of his life. And for the next nine years, Sullivan interviewed historians and Holocaust experts and dug through war archives in Germany, Italy, the U.S., and Great Britain.
As a result of these incredible interviews and research, Beneath A Scarlet Sky is more than just a novel based on true events—it is a piece of history, and Pino's own memories have given this book its realism, its heart, and its shattering sense of loss and tragedy. It is truly a tale unlike any other—a story of courage and intrigue, love and redemption—and one that can finally be shared.
Mark Sullivan is the acclaimed author of eighteen novels, including the #1 New York Times bestselling Private series, which he writes with James Patterson. Mark has received numerous awards for his writing, including the WHSmith Fresh Talent Award, and his works have been named a New York Times Notable Book and a Los Angeles Times Best Book of the Year. He lives with his wife in Bozeman, Montana.